12 Days of Christmas Giveaways
As part of our efforts to #LightUptheHolidays, we are celebrating the 12 Days of Christmas featuring one of the "gifts" under our "tree" each day. It's easy to win. Simply buy the featured item on its featured day and we will give you a gift of thanks. These gifts are in addition to our already Holiday Sale prices Follow us on Facebook for daily featured specials and gifts and together let's celebrate the season.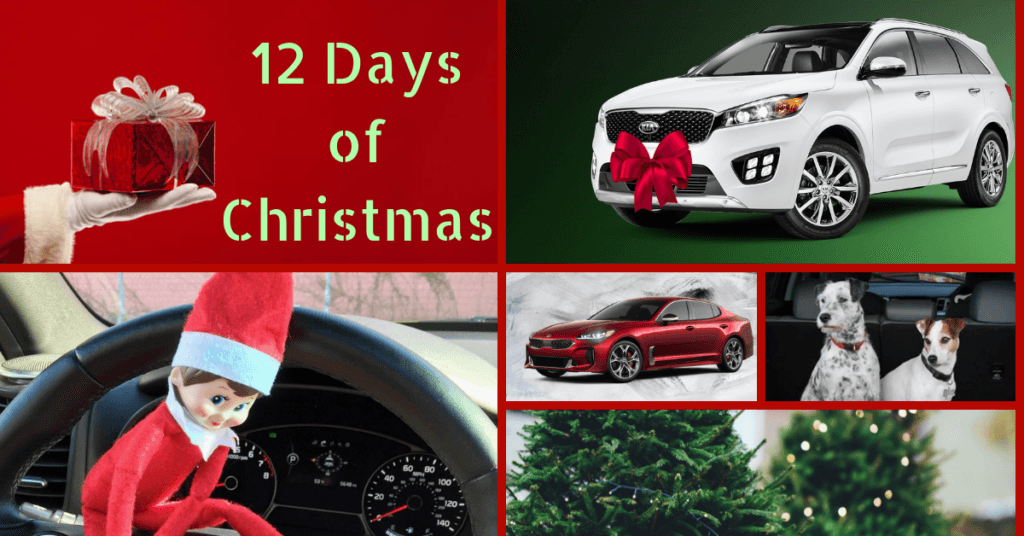 On the 1st Day of Christmas, my true love gave to me a Kia Rio. Level up your fun factor, with this Consumer Automotive Guide Best Buy. J.D. Power name, Rio the "Highest Ranked Small Car in Initial Quality and Dependability."  Starting at only $15,877, Rio is the car for those who know small can do big things. Buy a Rio and we'll add to the fun with Four Seatbelt Hamster Buddies.
On the 2nd Day of Christmas, my true love gave to me, a Kia Forte. The third-generation Kia Forte breaks all the rules of a compact car. The third-generation Forte takes its design cues from the Stinger GT. Its sporty image, upscale amenities, and advanced technology are uncommon in the compact class. The Insurance Institute for Highway Safety (IIHS) awarded the Forte a Top Safety Pick+ rating and the National Highway Safety Transportation Administration (NHSTA) gave it a 5-star safety crash rating. Prices start at $17,757 and you can ease a brand-new Forte in December for only $99 a month. The Forte is loved by those who love technology so we are giving a Wireless Power Bank to Forte buyers.
On the 3rd Day of Christmas, my true love gave to me, the best "box" under the tree—a brand new Kia Soul. The Soul is nearly as iconic as Santa's sleigh. The Kia Soul is fun to drive, surprisingly spacious, packed with the latest technology and unique style and has won more awards and accolades than you can count. You can drive a Soul for only $14,990 and you can drive straight to Gillie's Soul Food restaurant because we're putting a $50 Gift Card in the glovebox.
On the 4th Day of Christmas, my true love gave to me a Kia Sportage. This extraordinary urban adventure SUV is undoubtedly for those who like to enjoy themselves. You can buy a Sportage from $22,432, that's up to $2500 off MSRP during our holiday sale or lease for only $179 a month. Despite its sophisticated design and premium interior, we know Sportage drivers and up for anything and that's why we are including our all-in-one Seat Cushion and Picnic Blanket.
On the 5th Day of Christmas, my true love gave to me, a shiny new Kia Optima which is among the best of midsize sedans with Advanced Driver Assistance Systems (ADAS), a UVO infotainment strategy, and ambient LED interior lighting.  You can save up to $4000 on an Optima or $8000 on an Optima Hybrid. Make one yours and you'll be inspired to drive more. We'll outfit your new ride with an Emergency Road Kit.
On the 6th day of Christmas, my true love gave to me FOUR NEW TIRES. Anyone who owns a car is sure to enjoy this practical gift and with our Buy 3, Get One for a $1 Sale, we make it easy. Kia Country's Tire Center offers competitive pricing on Kumho, Hankook, Yokohama, Dunlop and Michelin tires which are approved, trusted brands that deliver the best driving experience for your Kia. And, you can sweeten the gift with a bottle of Tire Shine.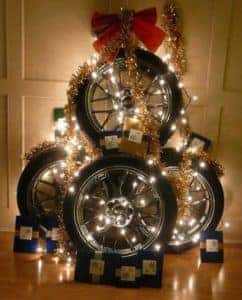 On the 7th Day of Christmas, my true love gave to me a nifty Kia Niro. The savings start with an entry price of only $22,298 and will continue throughout the life of ownership with an EPA-estimated 50 MPG and near 600-mile range. Niro, is a smarter kind of crossover. If you're driving a Niro, you obviously care about living green and that's why we are giving you two Kia Tumblers to take on the road.
On the 8th day of Christmas, my true love gave to me a shiny, Sorento SUV and with $5000 off MSRP, why wouldn't he? Given that Sorento has been the "Highest Ranked Midsize SUV for Two Years in a Row", it makes even more sense. We trust that you will be hauling all kinds of things in your Sorento so we're outfitting it with a Cargo Tray.
On the 9th Day of Christmas, my true love gave to me, a sizzling, Kia Stinger GT. The Stinger is designed for those who appreciate style and speed. With your choice of two turbocharged engines, 356 HP, you'll go 0 to 60 in under five seconds. Not only will your drive take you farther faster, so will your wallet because you can now save up to $7000 off MSRP on Stinger. Stinger drivers tell us it is so much fun to drive, it is difficult to stop. We understand and that is why we are giving you a $100 gas gift card.
On the 10th day of Christmas, my true love gave to me a Kia Sedona.  With first-class lounge seating, a designer driver cockpit, Slide-N-Stow seats, and an impressive suite of advanced technology, the Kia Sedona is the family vehicle you will love to drive. With a starting price of only, $31,150 it is both affordable and practical. We imagine you will be taking lots of road trips near and far so we are sure you will appreciate the Cargo Caddy with a built-in cooler.
On the 11th day of Christmas, my true love gave to a captivating Kia Cadenza. Impossible to ignore, the Cadenza is a premium sedan featuring luxurious interior and exterior styling, advanced technology, and impressive performance. The Cadenza is simply exceptional. Toast your newfound luxury with a bottle of champagne.
On the 12th day of Christmas, my true love gave to me the all-new K900 which establishes a new Kia standard for luxury, driving dynamics and automotive technology. The cabin touts sophisticated materials, high-tech features, and upscale amenities. You wouldn't want to get dirt in this car so the All-Weather Floor Mats are included. You're welcome. The K900 is simply divine.
We hope you enjoy the 12 Days of Christmas and that many of you will even receive one of our fabulous holiday gifts. Be sure to check our https://www.kiacountryofcharleston.com/new-vehicles/Facebook page each day to see which gift promotion is running. If you have any questions about our vehicles or #LightUptheHolidays sales event, please contact us.