2020 Kia Telluride: First Look
"While I haven't gotten a ride in this new to Kia SUV, I got a first look at the 2020 Kia Telluride this month and I am super stoked to be able to offer it as part of our lineup," said Steve Appelbaum, General Manager. Kia tells us that we will have the Telluride in the showroom in time for the 2019 Super Bowl.

The Kia Telluride is a full-size SUV, designed to compete with the Ford Explorer, Chevrolet Traverse, and Toyota Highlander. Telluride is a great name with an active connotation and should live up to that expectation. Telluride will fill the hole that the Sorento sometimes cannot.  If you have an active family and need a little more room this is the buggy for you. The Telluride a more aggressive stance than typical KIA designs. Its 8 inches longer than a Sorento and 3 inches wider. Adding a good bit of room in the second and third-row seats as well as the rear cargo area.  It comes standard with a big 3.8-liter V6 that will pull 5000 lbs.
Telluride, of course, comes with Kia's 5-year or 60,000-mile limited warranty as well as 10-year or 100,000-mile powertrain coverage, making it the family vehicle you can use while your family is growing up.  It will be under warranty from the time your children are 8 to 18.  What else will you own that is covered that long?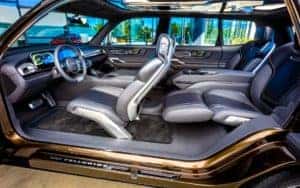 Designers and customizers are loving the Telluride. They are taking advantage of its athletic, active name and appearance; pushing it and pumping it up into the exciting kind of vehicle that Jeep type enthusiasts enjoy. This week Kia Motors is showcasing five Telluride models at The Special Equipment Marketing Show (SEMA), the automotive industry's largest show including Brandon Maxwell model which debuted during New York Fashion Week in September and four customized versions: Horizon Roamer, Cadet Leader, Desert Drifter, and Baja Glider.
Follow us on Facebook for further news and information. The full-size Telluride SUV is destined to become a game-changer for Kia.