2020 Kia Telluride Makes an Entrance
The 2020 Kia Telluride made an entrance at the Detroit Auto Show where it earned Best in Show honors. The SUV will be the largest vehicle in Kia's lineup and the first model designed specifically for the U.S. market. Designed in California and assembled in Georgia, the Telluride is big, boxy, bold and distinctively American.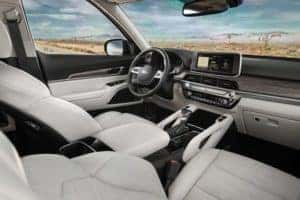 "What more needs to be said? It never fails to amaze me how far Kia has come from its early days on our shores. No longer the butt of jokes about quality or assembly, the latest Kias are amazing pieces of machinery that any of us would be proud to drive. The newest one, the Telluride, is a fantastic example and an easy contender for the benchmark in this class." — Aaron Bragman, Detroit Bureau Chief, Cars.com
Touted as "Rugged Luxury", the Telluride features a 291 HP, 3.8L, V6 engine with on-demand AWD. It will come in four trim levels LX, S, EX and SX. The interior cabin is distinctly upscale and offers a premium sound system, wireless charging Apple Car Play and Android Auto and other amenities.
The Telluride is big, bold and boxy with good cargo space, off-road capability and towing capacity up to 5000lbs. The 2020 Kia Telluride features a long list of standard Vehicle Safety Systems and Kia Drive Wise" Advanced Driver-Assistance Systems (ADAS)

Forward Collision Warning (FCW)
Forward Collision-Avoidance Assist with pedestrian detection (FCA)
High Beam Assist (HBA) (available)
Lane Departure Warning (LDW)
Lane Keeping Assist (LKA)
Blind Spot Collision-Avoidance Assist-Rear (BCA-R)
Blind Spot View Monitor (BVM) (available)
Driver Attention Warning (DAW)
Smart Cruise Control with Stop & Go
Rear Cross-Traffic Collision-Avoidance Assist (RCCA)
Optional Available Safety Technologies at the forefront of ADAS systems
Parking Distance Warning – Forward (available) and Reverse
Surround View Monitor (SVM) (available)
Highway Driving Assist (HDA): Uses radar systems to interpret lane markings so the vehicle can control steering, acceleration and braking to automatically adjust the distance from the vehicle detected ahead. HDA is also designed to recognize speed limits on federal highways and adjust speed accordingly (available)
Blind Spot Collision-Avoidance Assist Rear (BCA-R): A camera is designed to track vehicle lane changes and, if it detects an object in the intended path, the BCA-R system applies brake pressure to the front wheel of the opposite side to help maintain the previous course
Rear Cross-Traffic Collision Avoidance Assist (RCCA): An extension of Rear Cross-Traffic Collision Warning (RCCW), RCCA may apply brakes if an impending impact is detected
Lane Following Assist (LFA): When Smart Cruise Control with Stop & Go is activated, LFA is designed to monitor lane markings to help keep the Telluride centered in its lane
Safe Exit Assist (SEA): In certain situations, if the system detects an object approaching from the rear, SEA will override attempts to deactivate Electronic Child Safety Lock until the detected object has passed
Head-Up Display: Added information makes this system especially useful. Provides turn-by-turn navigation, speed and local speed limits, smart cruise control and blind-spot warnings (available)
Driver Talk: Uses a microphone to enhance communication with second- and third-row passengers (available)
Quiet Mode: Cuts audio output in second and third row so the audio choices of the front occupants are only heard in that row (available)
Rear Occupant Alert: Uses ultrasonic sensors designed to detect child or pet movement in the second and third row after the car's doors have been locked and then can issue audible alerts to the driver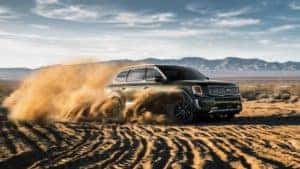 The 8-seater Telluride will compete in a crowded segment against the Ford Explorer, Honda Pilot, Hyundai Palisade, Toyota Highlander, Subaru Ascent, Mazda CX-9, Chevy Traverse, GMC Acadia, and Dodge Durango. It is competitively priced starting at $31,690. There were over 1M of these vehicles sold last year.
The Telluride will be a game changer for Kia. Now through March 1, you can sign up to become a Telluride Founders Club member Learn More. We are eagerly awaiting delivery of the first Tellurides which will have limited availability this spring. Follow us on Facebook to be the first to know, the first to test drive and the first to own the all-new 2020 Kia Telluride.