2022 Kia Carnival vs. 2022 Chrysler Pacifica
Since its release in February of this year, the 2022 Kia Carnival multi-purpose vehicle (MPV) has challenged perceptions of what a minivan can be.  How does the Carnival stack up against the 2022 Chrysler Pacifica, a segment favorite since 2017?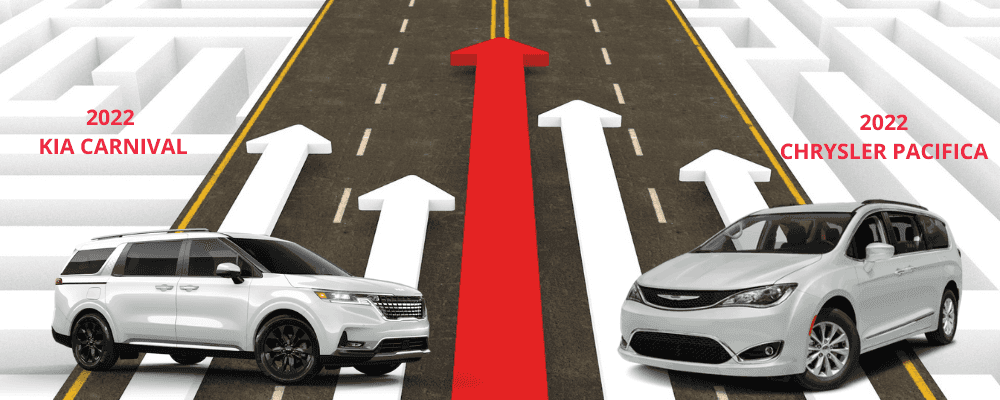 The Carnival is a clear favorite with a lower starting price, more standard features, better warranty, and an IIHS Top Safety Pick Award. AutoTrader recently reviewed the four leading minivans and Carnival came out on top. The review said, "The new Kia Carnival offers an ultra-luxurious interior, and its styling is more high-fashion SUV than a dour minivan." JD Powers says;" Kia doesn't want you to think of its new 2022 Carnival as a minivan. Never mind those sliding side doors; this is a Multi-Purpose Vehicle or MPV."


The Pacifica by comparison offers an available Plug-In Hybrid (PHEV) version, optional all-wheel drive, and second and third-row fold-flat seats, features that the Carnival doesn't offer. The Pacifica still sports a classic minivan profile but is considered stylish for the segment.
The Carnival's modern exterior, dashboard, and controls resemble a crossover SUV instead of a minivan, and because you can see the hood through the windshield, the Carnival feels like a crossover from the driver's seat.
In the SX Prestige, Kia supplies standard heated and ventilated VIP Lounge Seats, and they would be pretty impressive in an ultra-luxury vehicle, let alone something priced under $50,000. These power-adjustable lounge seats fully recline and offer a power-adjustable leg rest. A separate rear power sunroof opens over these seats.
In short, Kia has designed a worthy opponent in the Carnival which challenges the Pacifica and provides incomparable value. Test drive the Kia Carnival and see the differences first hand at Kia Country of Charleston.
We'd love to answer any questions you may have. Contact us at 843.533.2300, internetsales@charlestonkia.com, or complete the form below.