Buyers Most Common Questions
Our Product & Technology Consultants identified the most common questions that car buyers ask. We hope you find the answers useful. Some are Kia specific, while others would be relevant to anyone buying a car.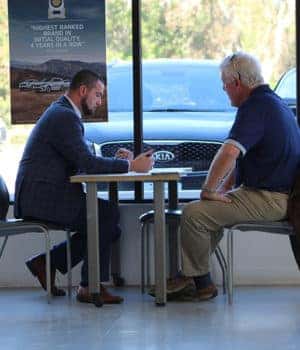 New Cars
1. Should I Lease or Buy?
You are essentially choosing between two different financing options. If you like to buy a car and hold on to it forever, then buying is the way to go. Our team favors leasing for several reasons. It offers you more flexibility and gives you options if your financial circumstances should change. There is no chance of negative equity. In addition to the financial benefits, you get to drive a new car every two or three years that is always under warranty and has the latest automotive technologies.
2. How much is my trade worth?
Complete the Value Your Trade Form to get a fair market estimate. Then Schedule an Appraisal Appointment or visit our showroom. Our expert appraisers will conduct a thorough assessment so we may offer you top dollar for your trade. In fact, we will buy your car even if you aren't buying one of ours.
3. What Does the Kia Warranty cover?
Kia has a great deal of confidence in the quality and durability in every new Kia that rolls off the assembly line. So much confidence, that they offer an industry-leading 10-year or 100,000-mile Kia warranty program. See Details.
4. Does warranty work have to be performed at Kia Dealer? Yes
5. Are extended warranties available? Yes
6. What is an IVT transmission?
Kia introduced the Intelligent Variable Transmission (IVT) in the 2019 Kia Forte. IVT is more sophisticated and will adjust shift feel according to driver input.  Shifting may be seamless and customers may not experience a large RPM drop of shift shock as with a traditional automatic transmission, however, when more acceleration is needed, the transmission will provide a conventional shift feel. The Society of Automotive Engineers has dubbed IVT "Smart CVT". We believe IVT will deliver better gas mileage and produce less wear and tear.
7. What is GDI and GDI-T?
Gasoline Direct Injection (GDI) & GDI turbo sprays fuel into the combustion chamber at a higher rate of PSI which results in better performance without sacrificing fuel economy.
8. Does Kia make an AWD vehicle?
Yes, the Telluride, Sorento, Sportage, and Seltos are all available in all-wheel drive.
9. What is the cost of service?
Our Service Menu with pricing is posted on our website. We are diligent about remaining price competitive with independent shops and franchises. We offer monthly specials and coupons to help our customers save money on maintenance and repairs. Our prices combined with Kia Trained & Certified Staff and Genuine Kia Parts & Accessories make a compelling case for dealership service.
Used Cars
10. What is the vehicle history?
Kia Country provides a CARFAX report that shows a vehicle's history including number of owners, accidents and more.  All pre-owned vehicles must pass a stringent inspection by our Service Department before we will send it to our used lot. If we do, we very often will change the oil, filters and take care of other maintenance items.
11. Do used cars come with a warranty?
Certified Pre-owned (CPO) Kia come with a 10-year/100,000 mile limited train warranty and a suite of other benefits. If a Kia is not certified, any balance of the 5-year/60,000 mile warranty would transfer to the new owner.