Camping with Kia
As summer begins, we wanted to explore camping with Kia. There has been an exponential growth of living the van life in recent years, primarily by millennials living a nomadic lifestyle. Outfitting a van can easily run $50-$80,000. Motorhomes or recreational vehicles (RVs) run well over $100,000. If you are going to become a nomad or travel for an extended period of time one or the other may be worth the investment. However, if you just want to get away for a few days and enjoy the outdoors without hotel expenses or the hassle of setting up camp, your Kia should be more than adequate.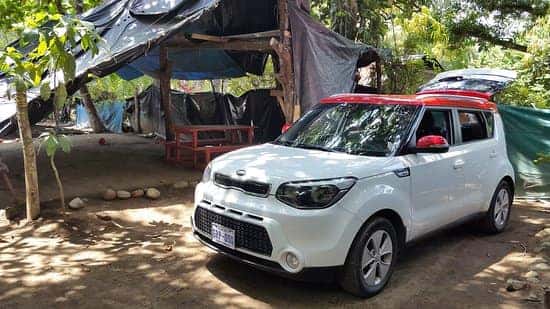 Google "car camping" and it will yield millions of results. Ditto on Pinterest. On YouTube, you can find many videos detailing how campers have outfitted specific Kia models for camping.  Kia's lineup is well-suited to camping. Kia's SUV lineup has ample cargo space, towing capabilities, and roof rails all which support travel. You may tow a small camper or convert the cargo space into comfortable sleeping accommodations. Kia offers several features that mesh well with camping. The panoramic sunroof is perfect for stargazing and 110v outlets can charge not only your cell phone but power small appliances for cooking.
Kia Telluride—8-seat SUV, rear privacy glass, side window curtains offer both ventilation and privacy, tow up to 5000 lbs,  heated/ventilated front seats, off-road capability
Kia Sorento—tow up to 5000lbs, roof rails, rear privacy glass, Hill Start Assist
Kia Sportage—tow 2000 lbs. rear privacy glass, 60/40 rear seat split, panoramic sunroof, underfloor luggage storage
Kia Soul–rear seat 60/40 split, rear privacy glass, Hill Start Assist, sunroof
Kia Sedona—tows up to 3500 lbs, roof rails, and Slide-n-Stow Seats which can be easily configured into a variety of layouts to suit personal preference.
Most campers will collapse the back seats and convert the cargo space to a sleeping area, but there are also tents which attach to a car and provide even more space and convenience. Kia also offers several accessories that are ideal for camping and organizing the cargo area.
Camping Tips
Safety First—find a place to park on U.S. Forest Service Roads or via Hipcamp which lists over 300,000 campsites, ranches vineyards, and parks that permit camping.
Comfort—be prepared for temperature conditions both hot and cold—both clothing and sleep accommodations
Privacy—use portable screens or drape cloths on bungee cords so no one can see into your vehicle while you are sleeping or changing clothes
Ventilation—prevent moisture build up by cracking a window or sunroof—cover the opening with screen or mesh to keep bugs out
Solar Lanterns or headlamps—you will need light after dark
Organizational Supplies—plastic bins for food, clothing, dirty clothes, toiletries, games & activities & garbage bags.
Cooler
Although Kia SUVs are well-suited to camping, they are perfect for any kind of travel due to advanced safety features and comfortable, spacious interiors.
And now with our Summer Sticker Sales Event, you can get a Kia SUV starting at $16,714. Come in for a test drive and #Look4theSticker.