Compare Kia Sportage vs. Honda CRV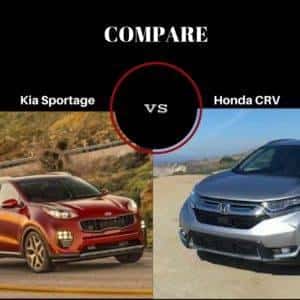 Let's compare the Kia Sportage vs. the Honda CRV.  The Honda CRV has been long heralded as the best of the compact SUVs. When Kia introduced the all-new Sportage, Motor Trend said, "One look at the 2017 Sportage, and you'll realize that there won't be anything like it in its class; it'll be a compact SUV that will turn heads.
And it has turned heads. Both automotive experts and consumers agree the Sportage is a bonafide contender in the compact SUV segment. The Sportage delivers sophisticated design, a premium interior and performance.
The Sportage's debut was marked with multiple awards including:
Best Compact SUV, Cars.com
Best Buy Award for Small SUV/Crossover
Highest Ranked Small SUV in Initial Quality, J.D. Power and Associates
It's not easy to dethrone a champion, but when you look compare the Kia Sportage to the Honda CRV, we are confident you will be impressed.
Buying a car is a big financial decision and it's important to make the right choice. Our new Model Compare Pages make it easy for you to see how our each of our models stacks up side-by-side against its top three competitors.