Engine Drive Belt 101
Engine Drive Belt 101–this is what you need to know. The engine drive belt moves the major components of your car which includes the alternator, air conditioning, and power steering. Most vehicles manufactured after 1990 have a single serpentine belt that controls all components vs. earlier models that had separate belts for each component. If one broke, it could possibly cause other belts to come off.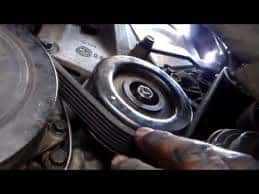 Having one belt is a big advantage for several reasons. It is much easier to inspect and far less costly to replace. A belt should last 5 or 6 years or 60-80k miles. Over time, a belt can stretch and cause it to slip on its pulleys. If this happens you will likely hear a loud squeak or you could experience a temporary loss of one or more functions. Signs that a belt needs to be replaced include cracking, slipping, squealing and glazing
One thing is for certain, if a belt is broken you will be stranded on the side of the road. If you notice any of these warning signs, bring your car so we can inspect the belt. Kia Country checks belts on every visit as part of our complimentary multi-point inspection.
If you have any questions, please contact our Service Department.