Environmentally Responsible Driving
Not everyone owns a hybrid, but environmentally responsible driving is something everyone can do.  We are celebrating Earth Day this weekend. Kia Motors is a Top 50 Global Green Brand and an ambitious Road Map 2020 initiative that advances environmentally friendly automotive technologies and positions the company as a leader in the low emissions car market.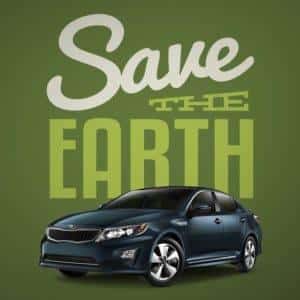 The Post and Courier recently reported that Charleston is on the American Lung Association's shortlist of U.S. with the cleanest air. At the same time, we are constantly reminded of increasing population and traffic issues. What can you do to help protect our local environment and reduce your carbon footprint? These small measures add up to a lot.
Routine Preventative Maintenance keeps your car running at optimal efficiency, pollute less and reduce toxic emissions
Maintain Proper Tire Pressure for improved fuel efficiency
Change Your Engine Air Filter to run engine more efficiently
Drive the Speed Limit to use less gas
Use Air Conditioning Judiciously
Eliminate Excess Weight for improved fuel efficiency
Use Landfill Collection for designated disposal of oil, tires and other automotive waste
This is a list of quick ideas.  Do you have other suggestions or ideas? Let us know in Comments.
If you are interested learning more about Kia hybrid technology, visit our Model and Compare Pages or come in and Test Drive the Niro and Optima Hybrid.