Get Ready for Cold Weather
Get ready for cold weather now. Charleston generally has mild winters, but last year's ice and snow provided a lesson in being adequately prepared "just in case."

These are what we call the "Fall Four"–the four most important things you should do to make sure your car is ready for cold weather:
Batteries: Come in for a complimentary free electrical checkup to make sure your charge is full. Car batteries are stressed by extreme cold and extreme heat.
Wiper Blades: Make sure your wiper blades are in excellent condition before inclement weather hits. You can check your wiper blades by running two fingers down the rubber strip to feel for cracks or tears and make sure that neither end is pulling away from the blade. If your blades are squeaking across the windshield, you can be certain your wiper blades need to be replaced.
 Coolant: Protect your engine by making sure that your coolant system has been maintained properly and serviced according to your Owner's Manual.
 Tires: Tire tread depth and proper inflation are essential for safe driving.
In addition to these maintenance essentials, it is also a good time to think about your own personal safety and comfort. Kia offers a variety of gear that will make winter to protect you and your vehicle during bad weather or an emergency situation.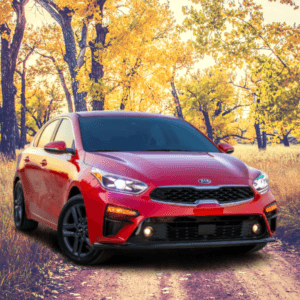 All-Weather Mats—are the number one accessory we recommend and we recommend them to everyone. Protecting your car from rain, mud, sand, stones or any other debris will yield benefits when it comes to resale value. They are easy to remove, rinse and put back in. All-weather mats are on sale this week for Car Care Month for only $99.
Mud Guards—mud guards protect your wheel wells from tire splash
Ice Scraper Glove or Ice Scraper—remember when you had to clean snow and ice off your car and didn't have one and couldn't buy one anywhere? Available with or without a glove.
Rear Cargo Tray—it's the all-weather mat for the back of your car. Make sure that wet tools, sports gear, and other supplies will not damage your carpet.
Auto Safety Tool—an absolute must-have for every car, this steel pointed tool will shatter glass easily and is sharp enough to slice a seat belt. It also has a hook and loop attachment for easy placement.
Emergency Kit(s)—Kia offers a variety of emergency kits. Our Parts Specialists can help you decide which one is right for you.
Power Bank—if you are stranded, this pocket sizes wireless charger will keep your phone working. It has two USB ports and can charge two devices at one time.
Men & Ladies Fleece—Kia has both ladies and men's fleece jackets which will keep you warm and dry.
If you have any questions about these products or would like to place an order Josh and Meghan would be delighted to help you. Call 843.573.9855 or complete the form below. Don't forget to check the "Fall Four".