Great Gridiron Giveway
For many of us, the best part about summer ending is that football begins. Kia Country is kicking off football season with the Great Gridiron Giveaway beginning September 6 and running through October 31st.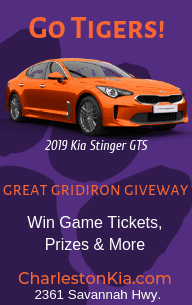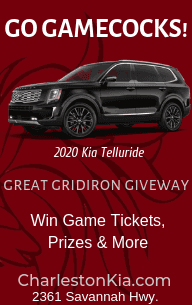 Look for football themed communications, advertising, social media and more. Look for ways to score, play and win this fall. Here are some of the things you can look forward to.
Go for the goal with amazing offers like No Payments till January 2020 on a new Kia.
Take a test drive, buy a car or book a service appointment and you could win two tickets to the annual Clemson vs. Carolina football classic on November 30th.
If you buy a car, you will reach in to the trunk of our showroom Stinger and grab a football to win Kia gear and merchandise, instant savings vouchers, football fan merchandise and more.
Look for us to celebrate South Carolina's Clemson Tigers, USC Gamecocks and the Citadel Bulldogs. We are sponsoring WCBD's weekly show, Inside Clemson Football, supporting the West Ashley High School Wildcats and more.
Look for us to move the ball down the field with amazing new sales and service offers each week during the Great Gridiron Giveaway. Follow us on Facebook and check your email for information and updates throughout the season.