Hauntingly Good Deals
Every Halloween, Kia Country offers hauntingly good deals.  We like to have fun and our customers like to save money so it's a win for all.  There are a few things to note other than special offers. COVID has caused manufacturing delays and inventory shortages. Despite that, Kia has remarkably introduced three new vehicles this year, the 2021 Seltos, the 2021 K5 and the all-new 2021 Kia Sorento which will arrive in November.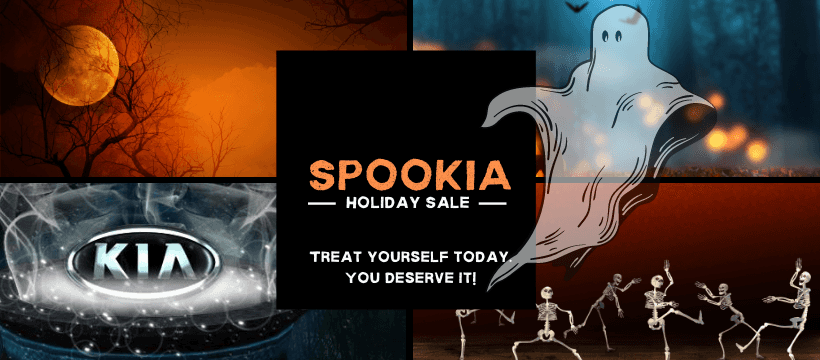 Jack-O-Lantern Leases
Kia is offering some amazing lease specials. The 2020 Forte is offered at only $88 a month and the 2020 Soul for only $99 a month. In fact, all of our special lease offers in October are under $200 a month which is an astoundingly low payment. Give up the pumpkin lattes and get a a new car.
Supernatural SUVs
If you are looking for an SUV, look no further. First, Kia offers an award-winning lineup and these incentives are out of this world.
Fangtastic Sedans
2021 K5: Lease for $159 a month | Get 0.9% APR for 66 Months | Special Introductory Offer
2021 Forte: Lease for $88 a month | Get $2750 off MSRP | Buy for $17, 715
2021 Kia Rio: Buy for $13,998, that's a savings of $2962
Ghosts?
We currently do not have any K900, Cadenza or Stinger in stock, but if you are interested in these vehicles, we will do our best to secure one for you from another dealership. We also expect the 2020 Kia Sorento to be sold out within the next week or so. Save up to $8000 off MSRP on in stock Sorentos while they last. on our bestselling SUV. On top of that, buyers also get Kia Country's exclusive Owner's Edge which we offer with all new vehicles and adds $3000 in ownership value. For the first time since it's legendary debut more than a year ago, we have had Tellurides in stock. They don't last more than a few days, but we do seem to be getting regular deliveries.
It's been a crazy year and we're offering crazy deals in October. We Make it Easy to buy a new car. The only hard part will be deciding Witch One?
Let us help you find the car you want at the price you need. Complete the form below.