How to Make a Kia. Step 3. Testing
How does Kia Motors design, test and bring vehicles to market?  Our five-part blog series shows you. This week we will focus on Step 3. Testing. Many great ideas are generated during the Design and Engineering development phases. But they must pass muster in a series of rigorous tests that not only mirror real-world conditions, but far exceed them.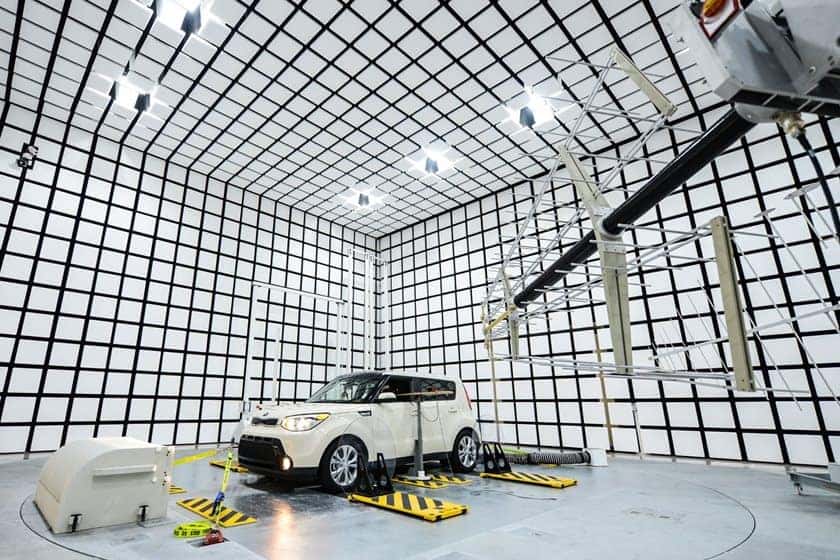 Wind Tunnel Test
An artificial wind of up to 200 km/h is applied to the car to measure its aerodynamics and resistance noise in order to identify pre-production improvements.
Low Temperature Test
A vehicle is operated at temperatures as low as 40 degrees below zero to see determine how it will perform in extreme conditions.
Snow and Rain Test
A car is operated in artificial rain and snow to test its resistance.
High Temperature Test
A car is tested for its duration in temperatures up to 140 degrees.
Road Simulation
Both vehicle components and driving performance are tested on a variety of road surfaces.
Impact Test
Crash tests are performed from multiple directions to ensure that vehicles are in compliance with international safety regulations.
Water Tightness Test
Can the car remain water tight even in the heaviest rainfall conditions?
Tire Testing on a Turning Test Circle
Both braking performance and the minimum turning diameter during a turn are tested at the track.
Driving Session on Belgian Roads
Ride and driving performance are tested on demanding road surfaces.
Desert Driving
The car is put to the test on a proving ground in the Mojave Desert in California to test performance and robustness in extremely harsh conditions.
This rigorous testing has resulted in Kia's emergence at a top mass market brand  with a commitment to quality and safety, as evidenced by the fact that Kia has more IIHS safety ratings than any other vehicle manufacturer.