How You Make a Kia. Step 4. Production
It is an exciting time when a Kia vehicle has cleared all hurdles and is ready for mass production.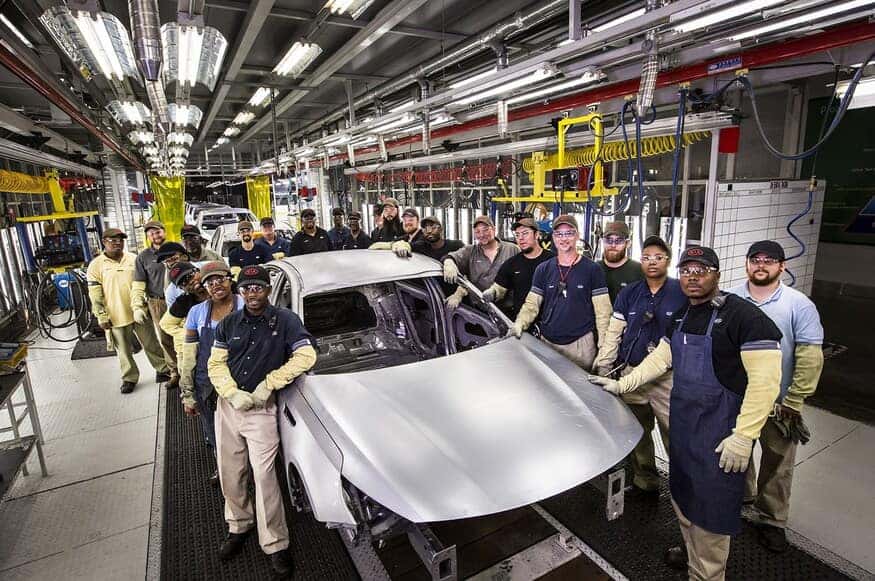 Casting
A manufacturing process by which a liquid material is usually poured into a mold containing a hollow cavity of the desired shape, such as an engine cylinder block.  Engines aren't typically originated or built at the assembly plant, but at a powertrain plant nearby. Powertrains are delivered continuously to feed the assembly lines at both Kia Motors Manufacturing Georgia (KMMG) and its Hyundai counterpart in Alabama.
Pressing
The first process of manufacturing a car in which a metal plate is pressed vertically under high pressure into the desired panel.  At KMMG, flat rolled sheet plate is cut and pressed into panels by robots and moved into a staging area for assembly.
Engine assembly
A process by which an engine is assembled through machining and parts assembly
Body assembly
Panels made through pressing are assembled and welded into the shape of the car. A high level of precision and safety are required at this stage. This is the assembly line.. robotic arms pick the appropriate doors and panels and weld the superstructure to create a unitized body that will eventually accept interior components and powertrains.
Painting
Painting is required to protect car materials from corrosion, improve the exterior and ensure distinctiveness. KMMG has one of the most advanced technology paint lines in the country. It has very limited access to prevent against contaminants and all the employees are dressed like surgeons to promote the best quality paint.
Assembly inspection
The car's quality is tested on the road. After final assembly every car is driven off the assembly line and quality inspected before being shipped.
Kia Motors Manufacturing Georgia (KMMG) is located in West Point, Georgia. They offer public tours which we highly recommend. Mitch Jones, our Service and Parts Director says seeing the production process firsthand is one of the "most amazing things I've ever seen."