Kelley Blue Book Trusted Advisor Program at Kia Country
Kia Country is delighted to announce that we have become a participating dealer Kelley Blue Book's (KBB) Trusted Advisor Program. This suite of products has been added to the Kia Country website to help car buyers make more informed purchasing decisions based on independent information provided by one of the most trusted brands in the automotive industry.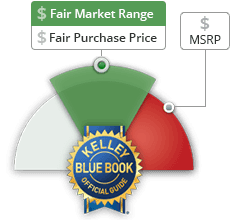 Consider these statistics:
• 69% of all consumers who sell or trade their car use KBB to determine the value
• 26% of consumers say that negotiating a purchase price is the most frustrating aspect of buying a car
• 19% of consumers say that finding the best deal is an additional frustration
This suite of KBB products will significantly reduce or eliminate those frustrations. There are several features that consumers will find useful. KBB's values are updated weekly based on current supply and demand, local and seasonal factors and what cars are selling for in this market.
Price Advisor
KBB Price Advisor arms consumers with the Fair Market Range and Fair Purchase Price for both new and used cars, so you can be assured that you are getting a good deal.
Value Your Trade
Use KBB's easy Value Your Trade tool to get an estimate of the trade-in value of your vehicle. See how our onsite trade evaluation combined with the online valuation can maximize the amount you receive for your vehicle.
Dealer Differentiator
Every vehicle on our website now features independent, KBB content to help you make more confident car buying decisions. Both new and used vehicle listings include KBB Ratings, Reviews, and Awards. Expert Ratings, Expert Reviews, Consumer Ratings, and Consumer Reviews, plus KBB Annual Awards are all available to help you evaluate a vehicle before you make a purchase.
These KBB tools provide independent, 3rd party price validation, market research, and information that provide a comprehensive research and one-stop shopping experience on Kia Country's website. We are delighted to be able to offer these tools to our customers and Charleston area car buyers.
We are offering an instant $550 additional trade value to anyone who uses the KBB Value Your Trade tool on our website during the month of May.