Kia Awarded by Top Automotive Experts and Consumers
Kia's reputation continues to grow with accolades and awards from both automotive experts and consumers. Combined with record-breaking sales, we have earned our stripes.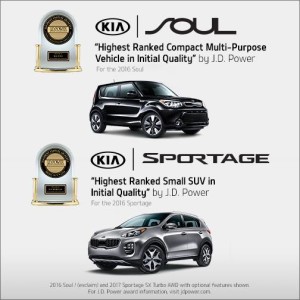 J.D. Power
In the annual J.D. Power Initial Quality Study, Kia nabbed three prestigious awards:
In a historic first, Kia topped 33 automotive brands. It was the first time in 27 years, a non-premium brand earned top honors.
Two of our models also took top honors: For the second year, Kia Soul was awarded, "Highest Ranked Compact Multi-Purpose Vehicle" and Kia Sportage earned, "Highest Ranked Small SUV". Three of our other models also ranked among the top three in their respective categories.
These awards are especially meaningful as they stem directly from customer surveys.
Consumer Reports
In April, Consumer Reports published, "Which Brands Make the Best Cars?". Although, Consumer Reports does not endorse any product, Kia fared extremely well on road tests and reliability data.
Cost of Ownership
Total cost of ownership is an important consideration when purchasing a new car. According to yourmechanic.com's Top Ten List of Car Models That Cost the Least to Maintain over ten years: The Kia Soul came in second at $4700 and the Kia Optima placed tenth at $6400. Combined with the many other awards and rave reviews, compelling prices and an industry leading 100,000 mile warranty make the Soul and Optima top choices.
Kia's continuing emergence as a top automotive brand is most evidenced by record sales. June sales were up 15.6% over the same period last year and contributed to the best YTD annual performance in company history.
These are just a few of Kia's recent accomplishments. Stay up-to-date on all Kia news and awards which are updated regularly on our website. Better yet, contact our Internet Sales Team at 843.573.2300 to Schedule a Test Drive and see for yourself why your next car should be a Kia.