Kia Concept "Imagines" the Future
Kia Motors unveiled its new all-electric concept car, 'Imagine by Kia', at the 2019 Geneva International Motor Show this week. Imagine by Kia is the company's first pure electric four-door passenger car. Imagine by Kia is underpinned by a low-mounted, induction-charged battery pack that powers a compact drivetrain. "Our all-electric concept is designed to not only get your pulse racing but to also signpost our holistic and emotional approach to electrification." Gregory Guillaume, Vice President of Design for Kia Motors Europe, said.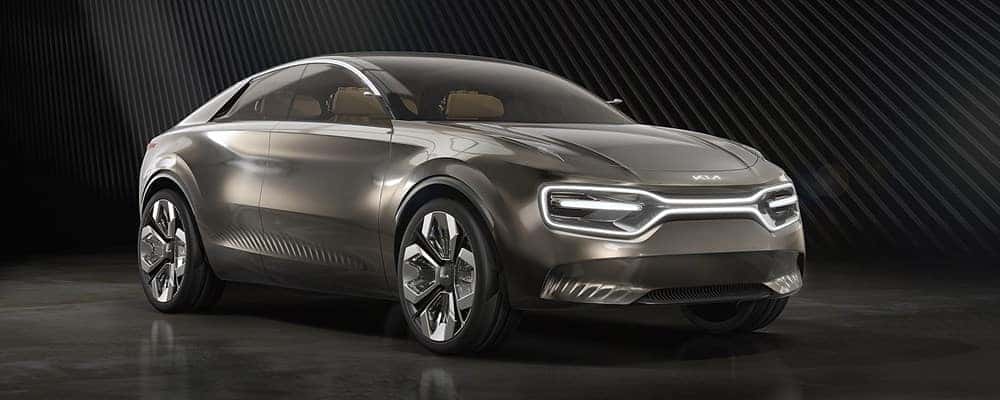 Imagine by Kia is intentionally designed to be a disruptor and not sit within the industry's predefined vehicle categories. It draws elements from a sports utility vehicle, sedan, and crossover making it familiar, but at the same time progressive and new.
Kia's iconic 'tiger nose' grille is reimagined as a bold new illuminated 'tiger mask' that encircles the main LED headlamp units. Separated by horizontal 'eyelids', the dipped and main beam units are housed with a single block of clear acrylic glass, creating the effect of piercing eyes floating free of visible support.
A single sheet of glass is used for both the windscreen and roof, flowing from the base of the A-pillar and over the cabin to create a vast sky-window, before tapering into a double-bubble over the rear passenger compartment. The concept vehicle's design, lighting, and even paint evoke a sense of movement and fluidity. Even the wheels contribute to the visual relationship that the car has with the movement of light. Each of the 22-inch alloy wheels has four flush inserts of transparent acrylic glass, polished at the front and diamond cross-cut at the back, to reflect and refract the light, much like a cut diamond would, as the wheels move. The wheels themselves are shod with bespoke Goodyear 255/35 R22 Intelligrip EV concept tires.
The interior is "full of surprising and delightful touches that amuse, engage and attract both driver and passenger alike," explains Ralph Kluge, Kia Motors Europe's general manager of interior design. The cabin is airy and spacious. Twenty-one 21 individual ultra-high-resolution screens curve their synchronized way across the top of the dashboard in a layout that's at the same time both casual and coordinated. They form a striking sculptural feature that is also highly functional. It effectively creates a single unified display from the driver's point of view, without the ever-increasing bulk and rigidity of traditional in-car displays.
The cabin's airy atmosphere is further enhanced by the floating center console that, like a wing, hovers independently above the low and flat floor. The doors – rear-hinged at the back for greater access – are swathed in a metallic fabric and leather, visually splitting the cabin into two distinct upper and lower levels.
The versatility of the all-electric architecture has not only enabled the Kia design team to create this open and spacious interior for passengers, but also for their luggage. Imagine by Kia boasts two capacious load bays: a 'frunk' front trunk and a traditional rear storage area accessed through the glass hatch.
"As you all know, Kia prides itself on our power to surprise, and it's this unorthodox approach that fired our collective imagination, moving us away from the rational, to embrace a warmer and more human approach to electrification," says Guillaume.
Let's hope many of these beautiful concept design elements make it into production.