Kia 'Named Best Global Brand' for 5th Consecutive Year
Kia has been named a Best Global Brand for the 5th year in a row on Interbrand's 2017 100 Best Global Brands.
Kia's global brand value rose 6% to $6.68 billion
Kia ranks in top 60 global brands for 2nd year in a row
Value of Kia brand has increased seven-fold since 2007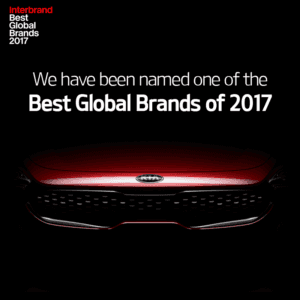 "More than half of the Best Global Brands came from four sectors: Automotive (16), Technology (15), Financial Services (12), and Fast-Moving Consumer Goods (9). Retail is the top growing sector in percentage terms (19%), followed by Sporting Goods (10%), Technology (8%), Logistics (7%), and Financial Services (6%)," according to Interbrand.
In the past year, Kia's strong performance as a global brand our rose more than 11%, growing to an estimated $6.3 billion USD. In fact, in the past four years, Kia's brand value is up over 50%.  Kia was named the world's 69th most valuable brand on the Top 100 for the 2nd year in arrow, its latest valuation representing a 645% increase in the value of the brand since 2007. Among automotive brands, Kia ranks 11th.
"Kia's continued efforts to evolve and redefine itself are critical to the sustained growth in its brand value" commented Mike Rocha, Global Director of Brand Valuation at Interbrand.
Continued growth is tied directly to product quality. Kia has become synonymous with quality and reliability in the automotive sector earning first-place in the J.D. Power Initial Quality Study in the United States, Germany, and the United Kingdom. "This welcome rise in Kia's brand value is a clear reflection of Kia's continuous dedication to our customers," Charles Suh, Senior Vice President of the Corporate Marketing Division at Kia Motors said.
This year, Kia launched its first premium sports sedan, the Stinger and a hybrid crossover, the Niro.  Digital technologies are being used to engage consumers worldwide.  Kia also maintains partnerships with high-profile sports events, sponsorships and relationships with professional athletes including FIFA, UEFA, NBA, LPGA, the Australian Open, Rafael Nadal, LeBron James and Michelle Wie.