Kia & Rafael Nadal Go the Distance
Kia Motors and Rafael Nadal will go the distance. In July, Kia Motors announced that it would renew its partnership with the tennis champion for another five years. Kia Spain started the relationship with Nadal in 2004. By the age of 19, he became Kia Motors' global brand ambassador and neither has ever looked back.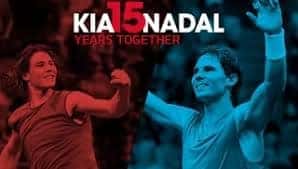 "I started my professional career with Kia and it's great to know that with this contract, I will end my tennis career with Kia. That means a lot to me. Kia has been by my side since I was 17 years old and has played a big part in my journey as a professional tennis player and as a person," Nadal said.
During their twenty-year partnership, Nadal has won 10 Grand Slams and one Olympic gold medal. Nadal has been key to promoting the Kia brand worldwide, particularly at the Australian Open and UEFA Europa two other major Kia partnerships. Nadal will continue to appear in Kia's global advertising campaigns across TV, print and social medial and will take part in major international sporting events.
Kia Motors and Rafael Nadal have one of the most corporate-athletic sponsorships in history. They've been instrumental in helping each other throughout the years.