Kia Stinger: First Impressions
Yesterday, the Kia Country sales team got up close and personal with the 2018 Kia Stinger GT. These are their first impressions. Since the Stinger made its debut at the Detroit Auto Show in January, we have been excited. It is a major evolution for Kia.
We've ogled photos from around the globe, reveled in overwhelmingly positive reviews and press, and have been fairly giddy with the spec model sitting in our showroom. There is a lot of buzz about the Stinger. It won Best in Show at SEMA last month, a Kia first and has sold well in overseas markets. In fact, we have taken orders for the car sight unseen.
Kia Country is one of a select group of dealerships who will have the Stinger in stock in December. Kia Motors America sent an advance team to train staff on Stinger details, specifications, and engineering, provide test drives and more.  Let's just say there was a lot of enthusiasm.
"After driving the Stinger, I have to say my expectations were definitely surpassed."–Andy
"5 Top Features, seat comfort, the perfect combination of luxury and sportiness, Heads Up Display and the Harmon Kardon sound system."–Tony
"The HiChroma Red is absolutely stunning."–Gloria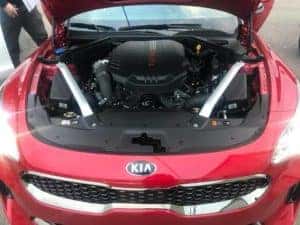 Perhaps the highlight of the day was driving the Stinger and driving the Porsche Panamera. Much to everyone's surprise, the Stinger outperformed the Porsche. "Let's just say you could feel that you were pushing and challenging the Porsche when you accelerated, but the Stinger was effortless. It almost begged you to go full throttle."–Charles
The Stinger is an industry disruptor.  It is a full-on ear-luxury touring sedan; that compares in luxury, performance, and quality at a fraction of the price.  Its direct competitors are the Porsche Panamera, BMW 4 series Gran Coupe and Audi A7.  Steve Appelbaum, General Manager said, "For those of you who don't drive vehicles for their emblems but for the love of driving, this is the car."  Even if it was similarly priced to those other competitors, the value and performance of the Stinger beat them both virtually and in reality.
Be the first on your block to own a Stinger. #SmokestheCompetition