Kia Stinger Makes Headlines
Since making its debut at SEMA 2017 and nabbing the coveted Best in Show prize, the Kia Stinger continues to make headlines. Stinger hit select showrooms including Kia Country's in late December and its momentum appears unstoppable.

Last weekend, Stinger made a 3rd quarter Super Bowl appearance with race and rock legends Emerson Fittipaldi and Steven Tyler.  The Stinger has racked up a slew of awards and positive press from both automotive experts and drivers.  This Stinger is redefining the sports sedan segment and challenging more expensive German automobiles.
Recently named, Best of the Year in MotorWeek's 2018 Driver's Choice Awards, the top honor given recognizes vehicles for bringing innovation and value to the car-buying public. The Stinger stole the spotlight and was awarded with an EyesOn Design Award for Production Car Design Excellence at the North American International Auto Show (NAIAS) in January. Considered to be the validation of great automobile design from industry leaders, the EyesOn Design award is an impressive achievement. And in January, Roadshow by CNET recognized Stinger as its 2018 Shift Award Vehicle of the Year.
The Kia Stinger is also a finalist for North American Car of the Year, European Car of the Year and World Car of the Year which represents a major coup for Kia. Quite simply, it is the car everyone is talking about and with good reason. The Stinger is a true Gran Turismo, both fast and luxurious. It is being favorably compared to the Porsche Panamera, BMW 4 Series Gran Coupe and Audi A7 and with a significantly lower price point, the Stinger holds broad appeal for those who want a high-quality performance sports sedan and aren't concerned with vanity nameplates. See side-by-side comparisons.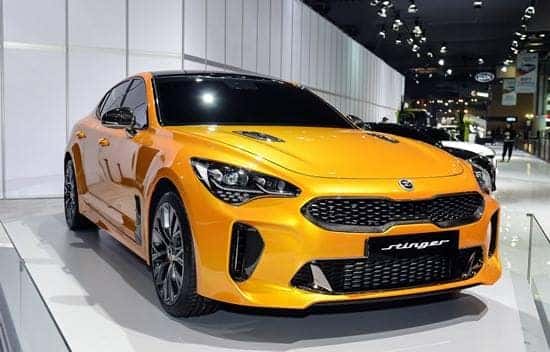 All of the awards and accolades are nice, but you have to experience the Stinger firsthand to appreciate what a truly remarkable feat of engineering it is. We encourage you to come in for a test drive. We promise the ride of a lifetime.
Schedule a Test Drive Today