Kia UVO: Technology for You
The Microsoft powered Kia UVO, short for Your Voice debuted in 2010. UVO technology makes driving easier, safer and more enjoyable. UVO has gone through several iterations. The next-generation eServices is a subscription-free OEM infotainment and telematics service. It boasts an 8-inch touchscreen and is app-based. Topping the list of standout features is its seamless integration with Google. UVO features help to minimize distractions while driving. Just as each Kia model has its own personality so does its UVO system. All UVO-equipped vehicles include the standard essentials with the exception of UVO play. Both eco and luxe include extra enhancements.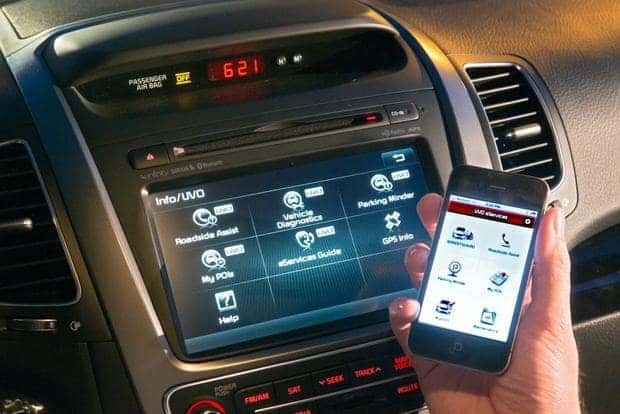 "Perhaps the best part of this is its price tag: $0. There are no contracts or fees to hassle with, which leaves you with a little more cash in your wallet. In this digital age, where there seems to be a pricey new gadget on the market every month, UVO eServices is a breath of fresh, techy air," AutoTrader's Lindsay Martell.
UVO at a Glance
In addition to phone assisted features and apps enabled by using Apple Car Play or Android Auto such as:
Hands-free, voice command calls, and "talk to text" and other entertainment features when your phone is mated to the car, UVO offers a broad range of useful tools that originate from the car itself.
1. UVO Essentials
All UVO-equipped vehicles are equipped with:
Emergency Roadside Assistance
911 Connect
2. Basic Features
UVO eServices—available on most UVO-equipped cars has tools like:
New Owner's Portal
Online Dealer Maintenance Scheduling
Virtual Glovebox puts owner's manuals & warranty information at your fingertips
Track past and upcoming payments and make payments online on vehicles financed by Kia Motors Finance
3. UVO Entertainment
Sirius XM—Satellite Radio music, sports, talk, entertainment delivered on 130 channels including 69 commercial-free music.
Jukebox–Free your favorite tracks from your compatible smartphone and send them, streaming, to your Kia's audio system. Or upload your music directly from a USB flash drive. Then control music using your UVO system
Pandora®–Stream the music you love with Pandora®. Select a station or log in to your account to access the stations that you've handcrafted yourself.
Auxillary Input–plug your compatible smartphone or device
Audio Streaming Music–without wires. With your compatible Bluetooth® smartphone, you can stream all favorite tunes in your phone's music library right through the UVO system.
Song Tagging–Hear a song you like on your radio? Simply tag it to save the artist and song title for later reference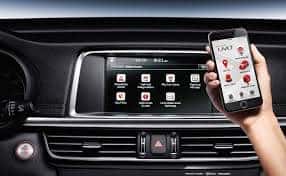 4. Personal Assistant
Parking Minder: With UVO eServices, Parking Minder lets you save your parking location right on your UVO app, plus set parking times and meter reminders. And with UVO eco and UVO luxe, Find My Car offers similar features with even more capability.
My POIs with Send-to-Car: Add favorite places on your smartphone app or online portal to sync with your Kia and get turn-by-turn directions the next time you drive.
Trip Info: Get all your data in one place. Trip Info tracks your monthly driving habits, like how much, how fast, and how far you drive—and gives you a driving score.
5. Diagnostics & Service
UVO eServices can send data regarding your issue, including your VIN and location, to help get you on your way.
Vehicle Diagnostics: Quickly and easily run a vehicle diagnostics check with just the press of a button. Call Roadside Assistance for immediate attention or schedule a service right from your car's head unit or app.
Critical Diagnostic Alert: This feature is designed to notify you of certain critical issues with your Kia. And with a push of a button on your head unit or app, you can request Roadside Assistance or schedule an appointment with your nearby or preferred Kia dealership.
6. My Car Zone
Curfew Limit Alert: Help keep your Kia and loved ones on schedule. If your vehicle is being driven past a preset time, Curfew Alert will send a notification to your smartphone.
Speed Alert: Designed to help you stay informed and give you peace of mind, this system can let you and the driver know when your Kia is being driven past your set speed limits.
Geofence Alert: Set up restricted areas or boundaries for your Kia. And if the driver breaks the Geo Fence rules, you'll receive an alert via the smartphone app.
Awards: Challenge yourself to be the best driver you can be. With the UVO app, you can receive badges for driving efficiently, scheduling maintenance visits, adding POIs, and much more. The more active you are, the more badges you collect. It's the fun way to stay on top of things while making the most out of every drive.
UVO Agent for Google Assistant
The newest UVO ecosystem expands with the introduction of the UVO agent for the Google Assistant. Kia owners can send remote commands to compatible vehicles in the comfort of their homes with Google Assistant on a smart speaker like Google home or their cell phone. Say "Hey Google, talk to UVO" and get help with things like stopping and starting your engine, climate control, lights, horns and locks.
The current models that support Google Assistant capability are:
• Niro Plug In Hybrid (MY2018+)
• Soul EV (MY2017+)
• Optima Plug-In Hybrid (MY2017+)
• K900 (MY2016+)
*Current owners of Kia vehicles may be eligible for a free software update that adds CarPlay™ compatibility. Go to myuvo.com for full vehicle eligibility and instructions on how to update your UVO software.
If you have any questions, please contact us or visit the showroom for a UVO demonstration.