Kia Wireless Charging
Kia first introduced wireless charging on the 2016 Kia Optima. It is standard on the K900 and optional on all Kia vehicles except the Niro and Rio.  Consult one of our Product & Technology Specialists to see which trim levels and packages include this feature.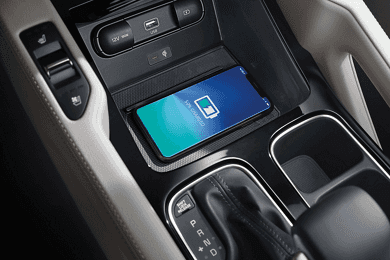 Kia uses Qi wireless charging, an is an open universal standard. Created by the Wireless Power Consortium (WPC), it defines wireless power transfer between two devices.
A Qi compatible mobile phone or a Qi compatible phone case is required. Examples of phones that are Qi compatible include Apple iPhone 8 or X and Samsung S7, S8, S9, and S10 devices.
Wireless charging is simple to use. Your Product & Technology Consultant will show you how to use wireless charging before you drive off in your new car. Keep these step-by-step directions in your glove box for future reference.
Steps include:
Place the phone on the center of the charging pad
Ensure the vehicle is "on" and the doors are closed for wireless charging to be available
The indicator near the vehicle charger will be "amber" in color when the phone is charging.
Depending on the phone used, you may see "green" indicator once charging is complete. Note: The indicator changing to "green" when fully charged is dependent upon the phone used. In some cases, the indicator may stay amber even when fully charged.
Some phones will not charge if to the USB.
Phone case thickness can impact the charge rate.
Avoid placing coins, credit cards, paper clips, pens, jewelry, and other objects on the charging pad while charging
Wireless charging eliminates the need for cables and power adapters and adds a convenience especially on road trips where you may be using your phone for GPS and entertainment for long periods of time.