May is National Bike Month
May is National Bike Month. It has been sponsored annually since 1956 by the League of American Bicyclists and celebrates the benefits of cycling. This week, May 13-19 is National Bike to Work Week and Bike to Work day is Friday, May 17.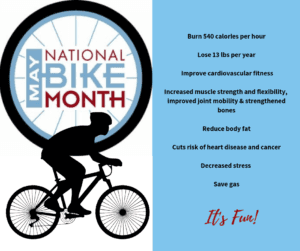 The week also reminds us to Share the Road. During National Bike Month, the National Highway Traffic Safety Administration (NHTSA) publishes safety tips for bicyclists, motorcyclists, and pedestrians. The National Safety Council (NSC) also promotes safety tips. Nationally, the number of deaths from bicycle accidents increased by 29% from 2010 to 2017. Of the 1024 bicyclist deaths in 2017, 679 involved motor vehicles according to Injury Facts.
In South Carolina, cyclists have the same rights as motorists. Charleston Moves, is a local nonprofit organization that encourages mobility by bicycle, foot and public transit for the improved health and well-being of greater Charleston. They have been the leader in advocating for bicyclists since the mid-1990s and are sponsoring Mobility Month in May, an annual celebration of safe streets.
Charleston is not known as a bike-friendly destination. In fact, in 2016, Bicycling Magazine named Charleston the worst city in the country for biking. Charleston Moves, among others, have been working to change this.
Please be aware of cyclists on the road. If possible, provide a wide berth and use caution. Use your voice to advocate for bike lanes on the Ashley River Bridge, the James Island Connector and the completion of the Battery to Beach trail.
Kia Country fully supports efforts to develop safe infrastructure for pedestrians and cyclists throughout Charleston. Sharing the road makes sense for our community can help alleviate transportation gridlock, improve safety and more.