November is Customer Appreciation Month
Kia Country Service and Parts Team Recognized for Customer Service Excellence
Every November our Service & Parts Department celebrates Customer Appreciation Month. Because of Kia's Service Centered Around You Philosophy, we develop relationships with our customers that last for several years or even more if they continue to purchase Kia vehicles.
Coincidentally, we learned this morning that our Service & Parts Department achieved some major recognition with many thanks to our customers.
New sales record Service & Parts
#1 Kia Dealer in the District, Customer Service Index (CSI)
Top 20% of all Kia dealers, Southern Region (CSI)
Top 25% of Kia dealers, nationally (CSI)
25 points above the national average (CSI)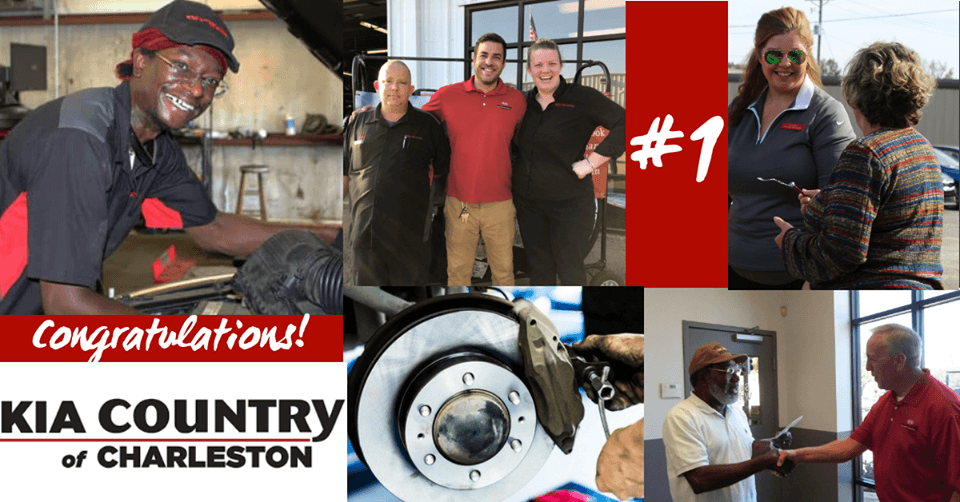 Mitch Jones, Service & Parts Director said, "I couldn't be prouder of my team. These are not easy numbers to score for a dealership our size. It's impressive and it's because of teamwork in both the front and back of the house and consistently putting our customers first."
The New Owner's Clinics, Women's Clinics and two Car Care Months each year, we solidified our customers' first philosophy and have allowed us to develop even better relationships with our customers. They really enjoy the events, contests, and prizes and appreciate the information and knowledge that we share with them.
Many of our customers take the time to complete Kia surveys, write reviews or send us a note and for that, we are extremely appreciative. We also appreciate that you trust us with the care of your vehicle. Our days can be demanding and often stressful, we never know what problems or issues we may encounter and how it will affect workflow. Because of that, there is nothing we appreciate more than the unexpected kindnesses our customers show us.
We asked our team to share some examples of how our customers have "made their day."
"We pick up Mrs. H's car for service and return to her work completed and car-washed. A few days later, Mrs. H delivers a big box of treats for the staff. It is so very thoughtful and very much appreciated."—Mitch Jones, Service & Parts Director
"I called a customer last week and he said, 'Goodbye, I hope the rest of the day is as nice as you are' Literally, it brought tears to my eyes."—Meghan Dolan, Service & Parts Coordinator
"Dr. J has owned 8 Kia vehicles. He never fails to show up for an appointment with a big smile on his face and he always puts me in such a good mood."—Chelsea Rowlands, Assistant Service Manager
"For me, it's the personal relationships you develop with people. Family is important to us. My customers and I talk about children, sports and more. There is mutual empathy and concern."—Tim Cooley, Assistant Service Manager
"Some of our customers are so sweet and it really makes your day when they come in. I asked a customer the other day how her new job was going and she was just so appreciative that I remembered that. It's those conversations that make the demands of the job worthwhile."—Allison Mills, Assistant Service Manager
And so we say thank you. Thank you very much. It is our pleasure to do business with you. Please enjoy a record 13 Customer Appreciation Coupons this month.