Pairing Bluetooth           
We often receive questions from customers regarding pairing Bluetooth in their Kia vehicle.  Product & Technology Specialist, Tony Washington has recorded a step-by-step video tutorial to demonstrate how easy it is.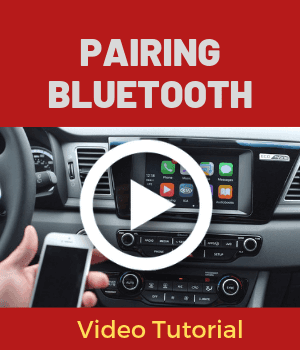 You can also print out the instructions below. We also receive questions from customers who have two phones paired to their Bluetooth system and do not understand why only one phone works in the car. You must designate a primary phone and you may add a secondary phone. You then have the option of selecting which phone should be connected to the Bluetooth at any time and switch back and forth based on personal preference and needs.
How to Pair Your Phone to Bluetooth
Start your car. It must be in park to pair Bluetooth
Go to settings on your phone and turn on Bluetooth. This should work for most phones, on others you will need to select discover, search, or find connection.
Go to the phone icon on your vehicle's screen.
Select your vehicle on your phone. You will find it under OTHER DEVICES. It will appear as KIA MOTORS. Click on this to connect. Make sure the Passkey matches and then click PAIR, and then click ALLOW, to allow your contacts to be paired with the vehicle.
You should have now successfully paired your phone and have full access to voice commands. If you have any questions please contact your salesperson or come in and a member of our team will be happy to help you.