Road Trip: Visit a South Carolina National Park
Plan a road trip to visit a South Carolina National Park during National Park Week, April 20- April 28, 2019. Nationally, there are 419 properties managed by the National Park Service. This celebration week is held annually in collaboration with the National Park Foundation, the official charity of America's national parks.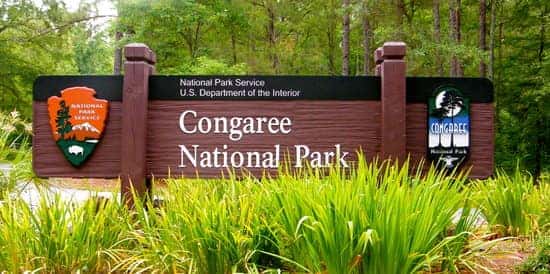 There are many types of National Park sites including:
National Battlefields
National Battlefield Parks
National Battlefield Sites
National Military Parks
National Historical Parks
National Historic Sites
International Historic Sites
National Lakeshores
National Memorials
National Monuments
National Parks
National Parkways
National Preserves
National Reserves
National Recreation Areas
National Rivers
National Wild and Scenic Rivers and Riverways
National Scenic Trails
National Seashores
Other Designations
In South Carolina, you may visit the following National Park treasures:
Congaree National Park
Hopkins, SC
Congaree National Park is the largest intact expanse of old growth bottomland hardwood forest remaining in the southeastern United States. Waters from the Congaree and Wateree Rivers sweep through the floodplain, carrying nutrients and sediments that nourish and rejuvenate this ecosystem and support the growth of national and state champion trees.
Charles Pinckney National Historic Site
Mt. Pleasant, SC
Charles Pinckney was a principal author and a signer of the United States Constitution. This remnant of his coastal plantation is preserved to tell the story of a "founding father," his life of public service, the lives of enslaved African Americans on South Carolina Lowcountry plantations and their influences on Charles Pinckney.
Cowpens National Battlefield
Chesnee, SC
This Revolutionary War site commemorates the place where Daniel Morgan and his army turned the flanks of Banastre Tarleton's British army. This classic military tactic, known as a double envelopment, was one of only a few in history.
Fort Sumter and Fort Moultrie National Historical Park
Charleston Harbor, SC
The first fort on Sullivan's Island, constructed of palmetto logs and sand, was incomplete when the British attacked it in 1776. The fort was named in honor of its commander, Colonel William Moultrie. The Confederacy fired on the US garrison of Fort Sumter on April 12, 1861, opening the Civil War.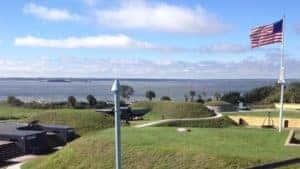 Reconstruction Era National Historical Park
St. Helena Island, SC
During the Reconstruction Era, 1861-1898 the United States wrestled with how to integrate millions of newly freed African Americans into social, political, economic, and labor systems. The people, places, and events in Beaufort County, South Carolina, reflect on the most important issues.
Kings Mountain National Military Park
Blacksburg, SC
Thomas Jefferson called it "The turn of the tide of success." The battle of Kings Mountain fought October 7th, 1780, was an important American victory during the Revolutionary War. The battle was the first major patriot victory to occur after the British invasion of Charleston 1780. The park preserves the site of this important battle.
Ninety-Six National Historic Site
Ninety-Six, SC
Settlers struggled against the harsh backcountry to survive. Cherokee Indians hunted and fought to keep their land. Two towns and a trading post were formed then abandoned to the elements. And two Revolutionary War battles claimed over 100 lives.
Overmountain Victory National Historic Trail
NC, SC, TN, VA
Stretching 330 miles through four states (Virginia, Tennessee, North and South Carolina) the Overmountain Victory National Historic Trail traces the route used by patriot militia during the pivotal Kings Mountain campaign of 1780. Follow the campaign by utilizing a Commemorative Motor Route which uses existing state highways marked with the distinctive trail logo, or 87 miles of walkable pathways.
South Carolina National Heritage Corridor
South Carolina
Designated in 1996, the South Carolina National Heritage Corridor is committed to promoting and preserving the cultural, natural and historic resources of the state. The corridor stretches across 17 counties from the Appalachian Mountains to the Atlantic Ocean.
Gullah/Geechee Cultural Heritage Corridor
FL, GA, NC, SC
Designated by Congress in 2006, the Gullah Geechee Cultural Heritage Corridor extends from Wilmington, North Carolina in the north to Jacksonville, Florida in the south. It is home to one of America's most unique cultures, a tradition first shaped by captive Africans brought to the southern United States from West Africa and continued in later generations by their descendants.