Safe Wheel Repair
There are numerous ways that your vehicle's wheels may become damaged. A thorough inspection will determine if the wheel is safe to repair or if it must be replaced. Oftentimes, repairing a wheel is possible. Aluminum wheels that may have been curbed can be usually repainted at a very low cost. Kia Country is able to provide wheel repair services on-site, through a partnership with a trusted local vendor.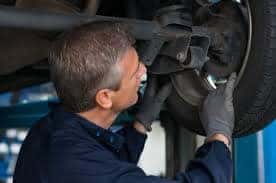 Wheels may be damaged in several ways:
Car accident
Road hazards and debris
Driving on a flat tire
Hitting a curb
Corrosion from brake dust, road salt or environmental factor
A wheel may become bent, gouged or cracked. A bent wheel at times may be straightened, sanded, primed and painted. Gouges or cracks may prove to be unsafe. Wheel repair averages between $75-$150 and wheel replacement can be as high as $500.
It is not always an exact science. If you have had your tires balanced and still feel a vibration when driving, you may want to consider getting a road force balance before investing in a new wheel. This is something we can perform here this type of machine is limited in shops around town.
Your tires and wheels are critically important to your safety and the effective operation of your vehicle. If you have any concerns, please come in for an inspection.
Kia Country serves the Greater Charleston area. If you live outside this region, please call your local Kia dealer or Kia Motors America Customer Service.