Safety Technology: 2021 Sorento
The all-new 2021 Sorento will offer a suite Advanced Driving Assistance Systems (ADAS) and including new safety technologies. The Sorento will have 16 standard or available "Kia Drive Wise" technologies.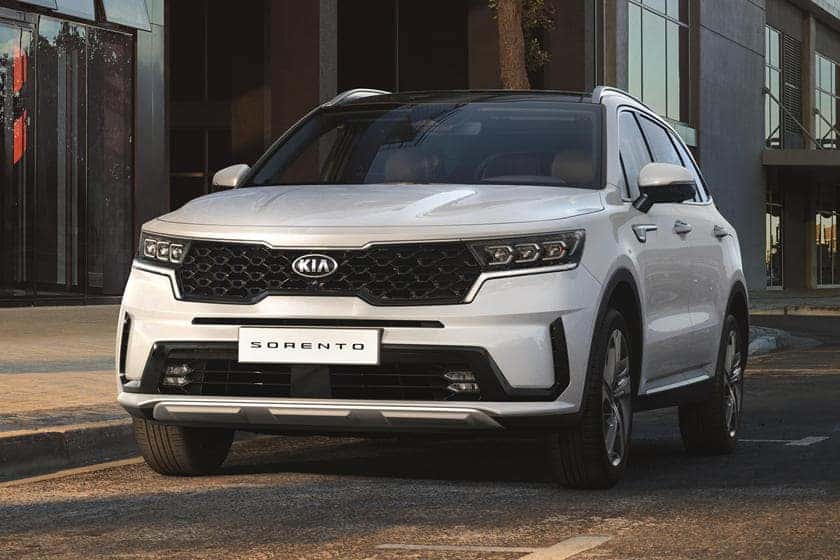 Kia Drive Wise is an intelligent safety system that assists drivers with autonomous driving and assistive technologies. Drive Wise helps to eliminate dangers by using intuitive alerts to prevent accidents by notifying the driver and giving them autonomy to respond.
ADAS Features
The suite of safety technologies for the new 2021 Sorento includes:
Blind Spot Collision Avoidance (BCCA) – Parallel Exit: Uses the rear-corner radar to detect a collision risk with parallel traffic when leaving a parking spot. The system applies emergency braking and cautions the driver through the cluster and an audible alarm
Standard Intelligent Speed Limit Assist (ISLA): Automatically changes set speed of Smart Cruise Control by using the speed limit information detected through the front camera or GPS navigation information (when activated)
Standard Forward Collision Warning (FCW): Designed to detect a vehicle ahead in the lane and in certain conditions, calculates distance and closing speed to issue an alert to the driver if it senses a potential frontal collision
Standard Forward Collision-Avoidance Assist (FCA): Builds on FCW by assisting the driver when braking to help prevent a collision or lessen the effects in certain conditions if a vehicle or object is detected in front
Standard FCA-Pedestrian: Builds upon FCW functionality and helps detect pedestrians in front of the vehicle and uses automatic braking to avoid or mitigate an impact
Available FCA-Cyclist: Builds on FCW functionality and helps detect cyclists in front of the vehicle and uses automatic braking to avoid or mitigate an impact
Standard Driver Attention Warning (DAW): Senses inattentive driving patterns and sends an audible/visual warning to alert the driver
Leading Vehicle Departure Alert (LVDA): Alerts driver with a chime when the leading vehicle begins to move forward from a standing position
Standard Lane Following Assist (LFA): Follows lane markings that the system detects and provides steering inputs to help maintain the vehicle in the center of the lane
Forward Collision Avoidance Assist (FCA) – Junction Turning (FCA-JT): Assists the driver in braking to help prevent a collision or lessen the effects in certain conditions when turning left and an oncoming vehicle is approaching
Blind Spot Collision Avoidance Assist (BCA): Under certain conditions, can detect vehicles traveling in the next lane. When a vehicle is "seen" in the blind spot, the vehicle brakes the outer wheel under certain conditions to help return the vehicle to its lane
Rear Cross-Traffic Collision Avoidance Assist (RCCA): Helps detect most approaching cross traffic when in reverse. When approaching cross traffic is detected, the system alerts the driver and applies brakes
Parking Distance Warning-Reverse (PDW-R): Detects certain objects behind the vehicle, issuing an audible warning when an obstruction is detected. The warning tone chimes faster as the vehicle gets closer to the detected object
Parking Collision Avoidance Assist (PCA-R): Uses rear view camera and rear ultrasonic sensors to help detect most pedestrians or nearby obstacles when the vehicle backs out of a parking spot, warning drivers with a chime and can engage brakes to prevent a collision
 Navigation Based Smart Cruise Control-Curve (NSCC-C): leverages the navigation system to lower the vehicle's speed proactively before upcoming curves
 Highway Driving Assist (HDA): Uses federal highway speed limit information from the navigation system and, under certain conditions, will automatically adjust speed to be within the posted speed limit and maintain distance with the vehicle detected in front
Safe Exist Assist (SEA): Can alert the driver or passengers opening their door not to exit the vehicle when the system detects approaching
The 2021 Sorento is expected to arrive in our showroom this fall. If you would like to learn more or be notified when it arrives, please complete the form below.