Sanitize Your Car
COVID-19 has taught us to sanitize and disinfect cars for our protection, as well as, that of our customers. Our Service Department has always washed customers cars, but the pandemic has changed the way we do things. It is equally important for you to disinfect the high-touch surfaces in your vehicles at least daily.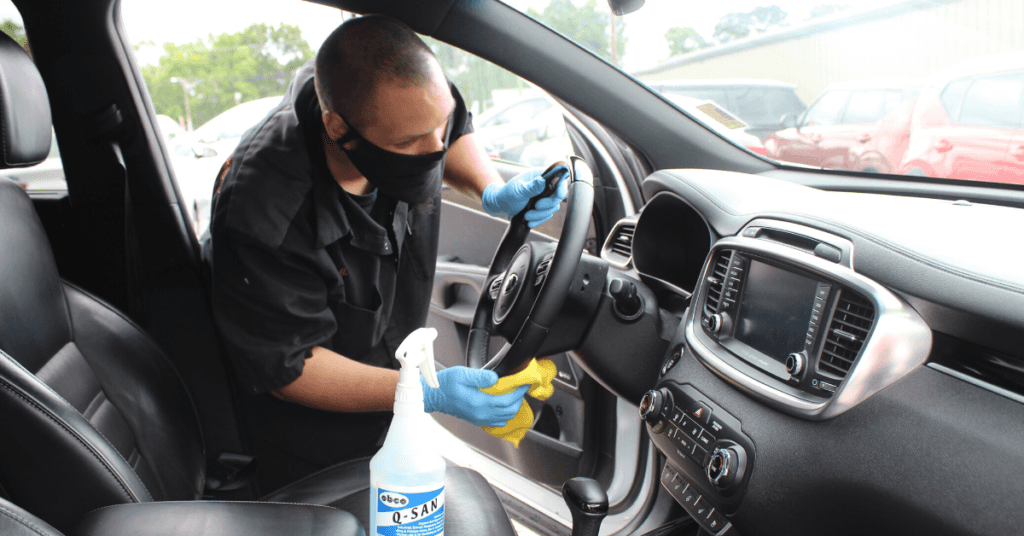 Our top "must cleans" are:
Door handles inside and out
Steering wheel
Gear shifter handle
Seat belt clip
Turn signal/wiper lever
Radio/entertainment system
Cup holder
Rear view mirror
Seats and seat adjustment lever
Dashboard
Gas cap
Key fob
It may seem like overkill, but the truth is if you touch anything out in public, cross-contamination is a definite possibility. Disinfecting your vehicle is not the same as cleaning. You must use products strong enough to kill the coronavirus, but at the same time ones that will not damage your vehicle.
Please DO NOT USE BLEACH or any products with bleach as you will damage your vehicle. Not all Clorox and Lysol wipes have bleach, read the label. You also do not need these strong disinfectants. If you have leather seats you may wipe them down, but if you have cloth you will need Lysol or spray disinfectant. Most detergents or cleaning supplies will work fine. Soap is your friend. Think Armor All surface wipes.  Many vehicle surfaces are not porous so once you wipe it clean, it's clean. Alcohol based products can damage or dry surfaces so use sparingly. Also, wipe on, wipe off, you do not want solvents sitting on surfaces.
It may seem like a lot, but it's relatively easy to wipe these surfaces down when you first get in your car. Within a couple of days it will be second nature.