Seasons Change, But Our Commitment Remains
Seasons Change, But Our Commitment Remains. We chose that as our inspiration for  Car Care Month to remind ourselves and our customers that The Kia Service Experience means service centered around you. It's more than a slogan, "Peace-of-mind and no surprises" – that's our goal each and every day. 
Car Care Month is a major effort mounted each April and October to help you learn more about how to best care for your vehicle and reduce your cost of ownership. Our Service & Parts staff deserve immense credit for taking on these initiatives. In addition to their responsibilities and daily workload they produce videos, plan and execute events such as our New Owner's Clinic and Women's Car Care Clinic, create fun contests and activities for our service customers.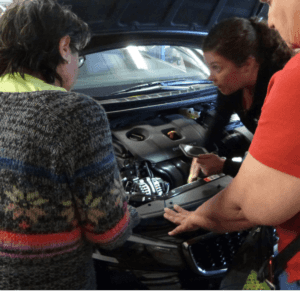 I have never met a friendlier staff. Performance and professionalism are outstanding. Calls are answered promptly. Response time is excellent. Questions are no problem. —Sharon1698, DealerRater.com
We know that there are many options for car care and we appreciate that you choose to have your car serviced at Kia Country We work hard to deserve that trust each and every day. We want to be a resource for you for as long as you own your vehicle. We accomplish that in so many ways.
Professional excellence. Our Service and Parts staff are Kia Trained and Certified. They maintain their knowledge and expertise through continuing professional education each year. We have three Master Service Technicians on staff which gives us a depth of expertise uncommon in most shops.
Offering amenities that make having your car serviced easier and more enjoyable such as online scheduling, shuttle service, loaner cars, towing, refreshments, complimentary wi-fi, early bird drop off, senior and military discounts, monthly specials to save you money and a complimentary car wash on every visit.
Conducting a complimentary multi-point inspection on every visit. Our Assistant Service Managers review the results with you so you know exactly what the current condition of your vehicle is and what short and long-term service or maintenance items you can expect.
Keeping you informed and sharing our expertise. We have 15 dedicated pages on our website including Frequently Asked Questions, and major components such as our Tire Service Center and an Online Maintenance Guide to every Kia model by year. In addition, we publish a service-related blog each week on a wide variety of topics that car owners will find useful.
Using only Genuine Kia Parts & Accessories that have been specifically designed for your vehicle.
Offering six consumer education events each year including quarterly New Owners Clinics and a bi-annual Women's Car Care Clinic.
We will continue to honor our commitment to our customers throughout the seasons. If you have questions, suggestions or ideas on how we can better serve your automotive needs, please let us know. Thank you for choosing Kia Country. We appreciate your trust and confidence more than you know and will continue to earn it each and every day.