Stop for Brakes!
Stop for Brakes! When you want to need or want to stop, you rely on your brakes to work and if for some reason they are not performing perfectly, the consequence could be severe or even fatal.  Brake service is one of our highest priorities and that's why we have made our focus of Week Three of Car Care Month.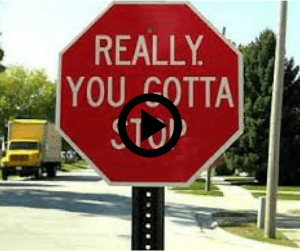 In addition to safety issues, properly functioning brakes can save you big money over time. Brakes do more than help you stop. They work together with your anti-lock braking system and electronic stability control system. Brake pads sit on each side of the rotor. When you apply the brakes, the pads contact the rotor to stop the car. If the pads wear down too far, it will damage your rotors. Rotors can also warp over time due to the heat caused by braking. With proper maintenance, these can be resurfaced rather than replaced.
We measure brake thickness on every service visit. If the gauge reads 3/gauge seconds, it's time to have your brake pads replaced. We stock Genuine Kia and Hyundai OEM brake parts and can special order parts for all other makes and models.
We are often asked how long brakes last. This depends largely on your driving habits and how often you brake. How long do you keep your foot on the pedal when coming to a stop? City driving and mountains are harder on brakes. Brakes may need to be replaced as early as 40,000 miles or could last for 70,000 miles. If you hear loud squeaking or grinding noises when you brake, it's time for a checkup.
Our Brakes for Life offer is regularly $199.95 is only $169.95 during Puttin On the Brakes Week. Schedule an Appointment.