Tire Brands We Recommend
Kia Country's recommends trusted tire brands Kumho, Hankook, Yokohama, and Michelin tires for your Kia or Hyundai vehicle. There are a lot of places to buy tires, but when you purchase tires through Kia's Tire Source, you are buying tires that have been specifically engineered for your vehicle. In addition, those tires have been tested and proven to meet or exceed independent safety ratings for your vehicle.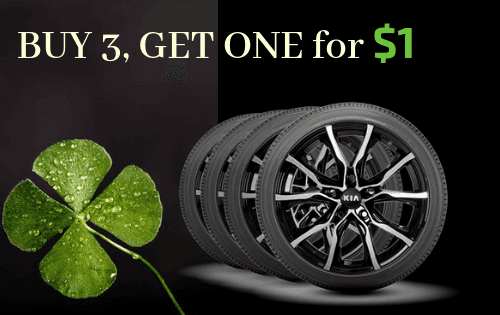 Kumho—has manufactured high-performance tires with innovative technology for over 50 years. Kumho started in Korea and is now one of the largest tire manufacturers with 8 factories worldwide. Kumho Tire USA is dedicated to safety and performance. We sell more Kuhmo tires than any other brand. They are known for quality, performance, and reliability.
Hankook—the 7th largest tire brand in the world, Hankook is an affordable tire brand with an excellent tread life warranty
Yokohama– is a Japanese premium tire company founded as a joint venture with B.F. Goodrich. It expanded to the U.S. in 1969 and has manufacturing plants in Virginia and Mississippi.
Michelin—a French tire company founded in 1889 that produces exceptional high-quality tires with good tread life warranties. Considered by many, including us the best tire you can buy. They are expensive but the longevity and safety make it well worth the extra cost. Michelin operates multiple U.S. production plants and also owns and manufacturers BF Goodrich and Uniroyal tires. Michelin is offering a $70 Master Card gift card for anyone that purchases four tires before March 31st.
Don't wait for a flat or blow out to replace your tires. The tread depth of your tires affects braking and safety. You should start shopping for tires in your treads reach 4/32nds tread depth. If your tread depth reaches 3/32nd, your tires definitely need to be replaced. Your tires will be measured and recorded on every service visit.
Search TIRE SOURCE to view tires that are manufactured for your specific vehicle. Our Assistant Service Managers are available to answer any questions you may have, help you to choose the best tire for your vehicle or to special order tires.