Why a Turbo Engine?
Why should you consider a turbo engine? The Kia Sorento, Sportage, Soul, Optima, and Stinger all have optional turbo engines on the top trim levels. Honeywell, a leading turbo supplier estimates that by 2020 39% of all vehicles sold will have a turbo engine.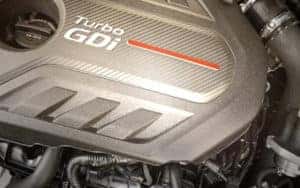 Essentially, a turbo engine provides increased acceleration and horsepower power and improved fuel economy vs. a larger engine. Larger engines take up more space under the hood and burn through more gas, making the turbo engine a nice compromise. Smaller engines also mean less weight and better performance. Additionally, the turbo kicks in when you are accelerating to pass a car, but operates as a normal four-cylinder during routine driving and slower speeds.
Turbo engines are so effective that many car manufacturers are discontinuing production of V8 engines, although they are unlikely to replace V6 engines in the foreseeable future.
How does it work? The turbo pushes more air into the engine's combustion chamber which makes it run more efficiently. Turbo engines are more environmentally friendly because of lower emissions.
Most turbo engines require more frequent oil changes and spark plug replacements. Kia turbo engines do require the first oil change at 3,000 miles but then shift to the recommended maintenance schedule of 5,000-7000 miles. There is no difference between Kia's standard engines and turbo engines recommended spark plug replacement.