Buyer Beware: Used Cars and Flood Damage
If you are shopping for a used car, buyer beware, flood damage can sometimes be difficult to detect.It can be difficult to identify flood damage in a used car. If you live in the Lowcountry and are considering buying a used car, it is worth learning what to look for. Flood vehicles may also be shipped here to be sold at auction from anywhere in the country.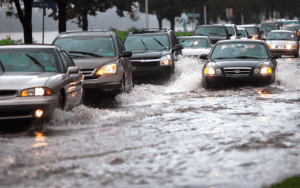 According to CarFax, flooded cars on the market have increased 20 percent year-over-year. An insurance company will determine if a car is to be totaled or repaired. Federal law requires that flood damage must be disclosed on a title, however, that does not prevent unscrupulous shops from trying to mask or hide the damage or rebuilding cars to turn a profit. There may be more than a quarter million flood damaged cars for sale at any given time.
Water can harm or destroy interiors, mechanical and electrical systems. A compromised system can present real hazards and danger, not to mention significant expense to remedy.
Using the Vehicle Identification Number (VIN), get a Vehicle History Report from CarFax, Experian Auto Check or the National Insurance Crime Bureau's (NICB) VinCheck.
Have the vehicle thoroughly inspected by a certified technician. Kia Country technicians perform a thorough inspection on every used car before it can be placed on our lot. Our technicians can inspect brakes, wiring, the engine and other components that may be difficult for a buyer to evaluate.
Avoid cars with musty or mildew odors
Look for tell-tale signs of moisture, water stains and/or debris in headlights and tail lights, the trunk, under the spare tire, under seats and carpet pads, in between seats, and in any cracks or crevices that may have been missed in cleaning
See if there is any rust or corrosion under the hood or under the vehicle
Not all of these things always mean flood damage. For example, a loose gasket can result in moisture in a light fixture. Moldy odors can come from condensation on the air compressor and so on. If you are not an expert we highly recommend that you have the car inspected by a technician that you trust and that can evaluate electrical, computer and mechanical systems.
What can you do to protect yourself? First, if you are buying used, buy from a reliable dealer. We do not want a flood-damaged vehicle on our lot any more than you want one in your driveway. We purchase some of our used inventory at a vehicle auction. The auction by law must declare flood damage and we do not buy those cars. If a customer is trading a vehicle in, our staff is very adept at evaluating the condition of a vehicle. If any flood damage is detected, the vehicle is sent to auction with flood disclosure. We also provide a complimentary CarFax on every used vehicle we sell. Buying Certified Pre-Owned (CPO) is another good option.
Buying a used car may either be a personal preference or a financial necessity and there are many high-quality pre-owned vehicles on the market, but make sure you know what you are buying.