Veterans Day: Warrior Surf Foundation
Q&A with Andy Manzi, President and Executive Director
Editor's Note: Warrior Surf Foundation WSF), founded on Folly Beach in 2015 addresses post-service transition challenges through surf therapy, yoga, wellness coaching and community. Kia Country is proud to support WSF and their innovation program to help veterans.  Special thank you to Andy Manzi, President and Executive Director for this Q&A in celebration of Veterans Day. 
Q: Can you explain how surfing and the ocean heals Veterans and brings them to a better quality of life?
A: Surfing is an activity that requires your full attention, even as you begin to gain skill and proficiency. Many Veterans find themselves fighting both the past and their fear of the present, and surfing provides them the opportunity to be present in the moment, to listen to their bodies, and be aware of what's going on with them in the now. We couple this experiential activity with psycho-education focused around mindfulness and resiliency which creates an opportunity for sustainable long-term healing.

Q: Can you talk more about how surfing has helped you personally?
A: When I was in Iraq a buddy of mine asked me what I wanted to do when I got home. I told him I was going to learn to surf, that I'd always wanted to do it. It wasn't until a few winters after I came home that my friend finally convinced me to take the plunge into the icy cold north eastern waters. In that moment, despite the glacial temperatures, I felt at home. A sense of peace washed over me for the first time in a long while, and I knew I'd locked on to a powerful therapeutic tool.
Q: How has yoga helped you personally?
A: Yoga meshes perfectly with surfing because of its focus on mindfulness and being present in the moment. For me, yoga is more than a workout, it's an opportunity to change the way I think, feel and perceive the world around me. For one hour I'm focusing on the internal workings of my being and creating space in my mind to allow all of the tools I have for healing and well-being to work.
Q: How has WSF helped you personally?
A: Starting Warrior Surf Foundation I didn't always have the expectation that it would grow to the point where it is now. When I first started, I was just grabbing Veterans from the street corner and convincing them that going for a surf would be worth it. I knew the positive benefits in my life and I just wanted to share them with other Veterans. As the organization has grown, I've also grown as a person and been challenged to take on problems and tasks I'd never imagined. The thing about most Veterans is that they aren't shy about telling you about yourself. It might sound odd, but that's given me the opportunity to learn more about who I am as a person and how I perceive my own thoughts and expectations. I have a vision, but the Foundation has only gotten better because of the Veterans we serve.
Q: What does it look like to watch a Veteran come into the program from a hard place and transform throughout the 12-weeks?
A: We see a lot of the same attitudes from Veterans when they start. A lot of them aren't sure they deserve to be there or feel that they're taking a spot from a more deserving Veteran. Some aren't sure they want to be around other Veterans, or are generally closed off and withdrawn. We tell them all the same thing when they show up on day one, "If you show up for yourself, we're always going to be here to show up for you. You have to do the work. It's not going to be easy and you're going have plenty of opportunity for excuses. That said, we can promise you that if you show up and do the work it will be worth it."
When a Veteran commits to the 12-weeks and really shows up, we start to see them open up. Not just to us, but to everyone in the community. You can see the first glimmer of that happening the first time they stand up and ride a wave. That little bit of joy propels them to a space of, "Hey, ok this isn't so bad," and then they feel a little less anxious about wellness coaching and taking that long overdue look inward.
About halfway through the program, we see Veterans really opening up, beginning to practice the resiliency skills they've learned in the program and making new connections to the community. That community connection is a critical part of what creates sustainable healing, and its why once Veterans graduate, we don't kick them to the curb. Instead we encourage them to keep coming out, keep participating and become mentors to new participants.
Q: Do you have any stories from any of the 500 Veterans you have served in terms of how your program has transformed their life for the better?
A: We've had several Veterans go on to get better educations, and jobs, or have the strength and mental clarity to make tough life decisions that get them where they need to be. One Veteran in particular was wrapped up in some negative aspects of the food and beverage industry and all that goes along with it. He's since gone to school, gotten several coding certificates, and found a job that allows him to code and travel the world- surfing obviously!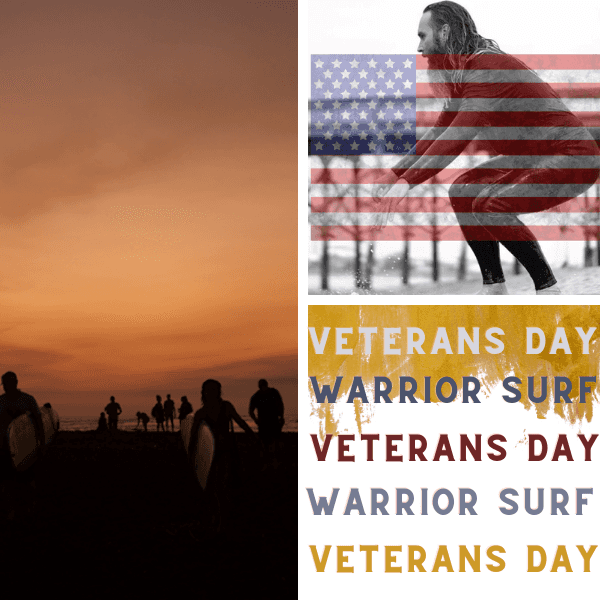 Q: Any stories of how Warrior Surf Foundation's community component has helped Veterans in a tremendous way?
A: Community is an essential part of Warrior Surf Foundation. In worst case scenario situations, such as in the event a Veteran is in danger or is having a hard time, someone knows about it. That means that we know and we're able to intervene and get them the help they need right away. Our community creates a safe space of social engagement and enrichment that is powerful. Everyone needs a tribe, and the community surrounding Warrior Surf has always been there when anyone needs it. In a way, it's reminiscent of the camaraderie we experience and grow to trust and expect in the military. The difference is we're including non-vets. It's educational and empowering for them to experience that kind of trust and solidarity.
Q: What has been the biggest challenge you personally have experienced with WSF?
A: It's hard to watch some Veterans walk away. At some point you have to be ok with the idea that some folks just aren't ready to do the work and that's ok. We keep the door open and lights on.
Q: What are you most looking forward to in terms of the future of WSF? Any big dreams on the horizon for the organization?
A: We're looking forward to continuing to grow and serve more Veterans. We've got some pretty big strategic goals lined up for the next few years that will really put us on the map for changing the way Veterans receive care. Ultimately, we hope to have more locations along the East Coast, and maybe in California as well. As far as big dreams go, we would love to have a dedicated space that is just for Warrior Surf Foundation events and activities. Having a space on or near Folly Beach would allow us to greatly expand and enhance our ability to increase services.
We hope you will join us in supporting WSF by making a donation.