Who You Gonna Call?
There are many resources available to Kia customers if they have a question or concern. Our Service team fields hundreds of calls each week. Unfortunately, our team often times receives calls that with issues they cannot address which only serves to exacerbate a customer's frustration. As such, we wanted to provide these resources for our dealership and Kia Motors America (KMA) with some guidance on whom to call.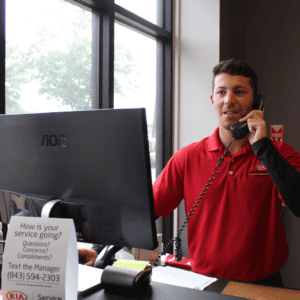 Kia Country of Charleston serves the Greater Charleston South Carolina area. If you live in this area or are visiting, our Service team is happy to answer questions about your car, schedule an appointment or address any issues you may have.
You may reach our Service Department via:
All Kia dealers are independently owned and operated. If you have an issue with a specific dealer, another dealer cannot help to resolve that complaint. Your warranty, however, is valid at any Kia dealer. Your first call should always be to your local dealer. If you believe your concerns are not being adequately addressed, you may contact Kia Motors America.
Kia's Customer Assistance and Roadside Assistance Hotline is staffed 24/7 and may be reached at 1.800.333.4KIA or online at Kia Customer Assistance Center during business hours (Monday – Friday: 5:00 AM to 6:00 PM PST). KMA is also very responsive to customer posts on Twitter and Facebook. You may also contact KMA Corporate Headquarters at 1.949.468.4800.
Customer service is our top priority. We hope these resources will help you get to the right person the first time.