Car Care Month

Our Service and Parts team is rolling out the red carpet for our annual Fall Car Care Month Celebration. Car Care Month gives you a chance to learn new things, save money, attend events and win fabulous prizes. Every customer who schedules an appointment during the month of October will be eligible to win our Grand Prize: a Complimentary Cooling System Service.

Week 1, October 1-6: Totally Chill 
Our focus this week is on your vehicle's cooling system. Good This Week ONLY, get our Cooling System Service & Fluid Exchange for only $99 (reg. $115). Try your luck at Chill Out Trivia while you are waiting for service this week and you could win a wireless power bank. And be sure to read our blog and watch our video on what you need to know about your cooling system and cold weather.
Week 2, October 8-13: Get Ready
Our goal this week is to help you get your car ready for cooler weather. We're also getting ready for the 4th Annual Bark & Boo, to benefit Charleston Animal Society on October 27th. Guess how many dog bones are in the jar in our service lounge and you could win a Cold Weather Gift Pack. Be sure to check out our cold weather gear blog and THIS WEEK ONLY, order All Weather Mats for your car for only $89.
Week 3, October 15-20: This One's for the Girls
Although it is Car Care Month, we wanted to also acknowledge Breast Cancer Awareness month in honor of our mothers, daughters, sisters, staff, and customers.  It will be the focus of this week's blog. Our THIS WEEK ONLY Special is 25% of all Kia Women's Gear. Our Service customers will play "What's in Your Purse?" for a chance to win our "Think Pink Prize Package". We'll top off Women's Week with our popular Women's Car Care Clinic. Register by contacting [email protected] or calling 843.573.4995.

Week 4, October 22-27: Oh So, Sweet
Trick or Treat, it's Halloween Week. THIS WEEK ONLY, use our Variable Discount Coupon to save big on any service of your choosing. Try your hand at Candy Scream Slogan for a chance to win our Fall Gift Basket and don't forget to join us on Saturday, October 27, for Bark & Boo.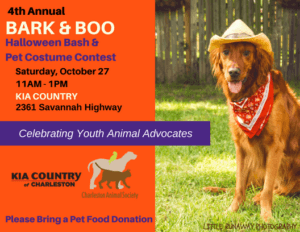 Be sure to Follow us on Facebook for daily, updates, news & information on Car Care Month