About Us

About Us
The Kia Country of Charleston Story
Thank you for wanting to learn more about us. To understand Kia Country of Charleston's story, you must start with the Lee Motor Company which was founded in 1953 by my father, James L. Lee, a veteran of World War II. After his service in the Navy, Dad became involved in the automobile industry, which he enjoyed for the rest of his life. He began his career in 1946 working at Ford's manufacturing plant in Norfolk, Virginia. Eventually becoming the Zone Manager, he called on Ford dealers throughout the North Carolina market. In 1951, he went to work directly for the Ford dealership in Windsor and later Plymouth, North Carolina. In 1953 with a $5000 stake and a dream, he and my mother purchased the Ford dealership in Elm City and went into business for themselves. In 1967, my parents purchased Tobacco City Motors in Wilson. This dealership was later relocated to the corner of Ward Blvd. along the US 301 corridor in Wilson, North Carolina. In 2013, we built a brand new state-of-the-art facility on Raleigh Road Parkway West in Wilson and renamed it Lee Ford Lincoln.
In 1980, Dad passed away, and so at the age of 20, I took over the day to day operations of Lee Motor Company. At the same time, I was finishing my sophomore year in college, and my wife and I were married just three months later. In 1982, along with my wife, I graduated from Atlantic Christian College, now Barton College, in Wilson, North Carolina.
Our company and our country struggled through a vicious recession that lasted through the middle of the decade, and as the smoke cleared, we were still standing. Over the ensuing decades, we have purchased and sold several dealerships, proudly helping several of our store managers become owners in their own right! And many of our dealerships are some of the top volume stores in their state and region.
Lee Motor Group consists of these dealerships. You may search the inventory of any of our stores. Let us know if you see anything that interests you and Kia Country will be delighted to assist you.
Lee Ford Lincoln (1953)
Lee Nissan, Wilson, NC (1982)
Lee Hyundai of Fayetteville, Fayetteville, NC (1988)
Lee Hyundai of Florence, NC (sold 2020)
Kia Country of Charleston, Charleston, SC (2003)
Kia Country of Savannah, Savannah, GA (2004)
Lee Kia of Greenville, Greenville, NC (2010)
Lee Hyundai of Goldsboro, Goldsboro, NC (sold 2020)
Lee Chrysler Dodge Jeep Ram, Wilson, NC (2013)
Kia Country Bluffton, (coming 2021)
In addition, we have an interest in two other Kia dealerships: Kia of LaGrange in Georgia and Kia of Auburn in Alabama.
Kia Country of Charleston has deep roots in our community. We help support local causes and assist with area fund drives to help raise money for various worthy causes. We provide well-paying jobs for our employees who live in the area, many of whom have worked here for years, and who are your friends and neighbors.
We appreciate your taking the time to visit us online at charlestonkia.com. We have a dedicated Internet staff to assist you with every facet of the purchase process, as well as all of your parts and service needs. As you browse our site, I hope you will see the pride we take in our dealership.
Since 1953, our business model has remained the same – to exceed our customers' expectations in every facet of our business. Our goal is to make each customer's experience as pleasant and convenient as possible, and as always, we are committed to doing business the right way.
Sincerely,
John Lee, Chairman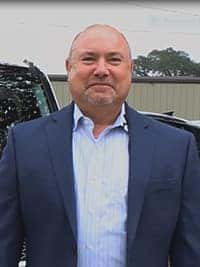 Steve Appelbaum
General Manager
John Lee
Chairman
Tim Varnell
President
Business Philosophy: FORECAST
BUSINESS will continue to go where invited and remain where appreciated.
REPUTATIONS will continue to be made by many acts and be lost by one.
PEOPLE will go right on preferring to do business with friends.
GO-GIVERS will become the best go-getters.
THE "EXTRA MILE" will have no traffic jams.
PERFORMANCE will continue to outsell promises.
ENTHUSIASM will be as contagious as ever.
KNOW-HOW will surpass guess-how.
TRUST, not tricks, will keep customers loyal.
QUALITY will be prized as a precious possession.
The Ten Cannots
You cannot bring about prosperity by discouraging thrift.
You cannot help small men by tearing down big men.
You cannot strengthen the weak by weakening the strong.
You cannot lift the wage earner by pulling down the wage payer.
You cannot help the poor man by destroying the rich.
You cannot keep out of trouble by spending more than your income.
You cannot further the brotherhood of man by inciting class hatred.
You cannot establish security on borrowed money.
You cannot build character and courage by taking away men's initiative and independence.
You cannot help men permanently by doing for them what they could and should do for themselves.