5 Characteristics of a Good Car Salesperson
In honor of National Salesperson Day tomorrow, we thought we would share what makes a good car salesperson and what you should be looking for when you visit a dealership.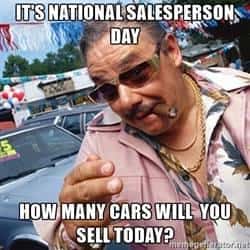 Someone who listens. Our team works to help each customer find the right car for their needs and lifestyle, a finance deal that is in their best interests and a payment they can comfortably afford.
Someone who establishes rapport. Our sales team is in this for the long haul. Success in this business depends on repeat business and referrals. Treating people fairly and with respect is essential.
Someone who is knowledgeable. Kia requires four weeks of training to achieve certification. This includes product knowledge, customer service and sales. It is important to have all of your questions answered before you buy. If our team doesn't know the answer, they will tell you and they will find it.
Someone who is comfortable with technology. Each year, there are advances in automotive entertainment and safety technologies. Your salesperson should be able to discuss and demonstrate each, pair your phone and program your preferences.
Someone who is committed to customer satisfaction. Our team is with you before, during and after the sale. Hassle-free car buying and ownership—because #HappyCustomersareEverything
Read our Reviews to see what customers have to say about our team. We think they are the best in the business even if they won't wear gold chains and pink jackets.
#NationalSalespersonDay.