Brake Fluid 101
It's Brake Fluid 101–all you need to know to protect your brakes. Changing brake fluid is a service that is seldom requested by customers or seldom offered by us. It is an often-neglected maintenance item. Most shops inspect brake fluid level and top off as needed. At Kia Country, we not only check the fluid level, but we perform visual inspection of the brake fluid for color and clarity. Many do not realize that the quality and color of the fluid can vary significantly between the reservoir and the caliper.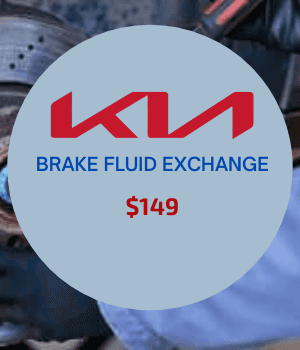 There are several ways to test brake fluid:
Measure moisture level
Measure the pH level
Measure the amount of copper
Testing, flushing and changing brake fluid require special equipment and expertise.
Since 2008, most cars have ABS brakes with hydraulic components. Brake fluid protects those components and keeps them operating efficiently. There are no hard and fast rules on how often this service needs to be performed. Driving habits and environmental factors can impact fluid degradation. We recommend getting a brake fluid exchange every 75,000 miles. We are offering a special discount through February. Sale $149/Regular $169.
Kia Country serves the Greater Charleston, SC region. If you live outside of this area, please call you local Kia dealer or Kia Motors America.