Goodbye Hamsters, Hello Chameleon?
Goodbye Hamsters, Hello Chameleon? Say, it isn't so. Kia has ditched its iconic hamsters for a lizard. Do you like metaphors? "It is not the strongest of the species that survives, nor the most intelligent that survives. It is the one that is most adaptable to change." And so, Kia Motors introduced an entirely new marketing campaign to herald the arrival of its very, adaptable third-generation Kia Soul.
"We have taken the Soul to an entirely new level by giving it even more of Kia's 'Give It Everything' credo. With the expanded lineup offering more style, utility, technology, comfort, and adaptability than ever before, it's a whole new species of Soul," said Saad Chehab, Vice-president, of marketing communications, Kia Motors America.
Set to an original soundtrack entitled, "The New Species of Soul", by Jason Slack. The new campaign was created by David & Goliath, the same agency that created the hamsters. The commercial features a turbo-charged Inferno Red Soul GT-Line, and Undercover Green Soul X-line and a Solar Yellow Soul EX Designer Collection Package twisting and turning through a colorful and desolate landscape which ultimately reveals itself to be a chameleon's back.

"No matter what you throw at it, the all-new Soul has you covered. From the rugged X-Line to the turbocharged GT-Line and the head-turning Soul EX Designer Collection Package, Soul's extreme adaptability makes it the ultimate chameleon," continued Chehab.
All true, but for nearly a decade the hamsters defined the Soul and propelled it to one million U.S. Sales. We watched them dance, sing and exercise to current hits and they even gave birth to baby "Turbo". And whether you loved them or hated them, you surely knew them. The first campaign "A New Way to Roll" won Nielsen's Best Automotive ad in 2009 and its successors inevitably made top ten lists.
Kia customers loved getting their photos taken with human-sized hamster cutouts. Does anyone want their photo taken with a lizard? For now, Kia "gave it everything" and poured more of its "soul" into every inch of the vehicle, resulting in rugged performance, thrilling technology, and urban practicality, qualities that transcend geography and appeal to drivers of all ages and the smirking, Soul gulping chameleon it is.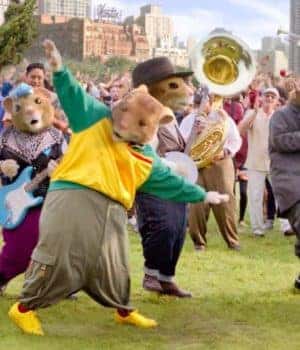 But, don't despair. In response to public outcry, Kia responded with, "We love the hamsters! But we heard that the hamsters are off on an epic road trip at the moment. Therefore, we adapted."
Metaphors.