Light up the Holidays
Light up the holidays with these local light and Christmas displays.
Christmas at Boone Hall
December 8-January 1
Boone Hall Plantation & Gardens is spectacular throughout the year, but especially comes alive during the holidays. Every room of the plantation mansion, as well as, the grounds are decorated for Christmas. Look for handmade ornaments and arrangements featuring Boone Hall sweetgrass, magnolia leaves, cotton and berries.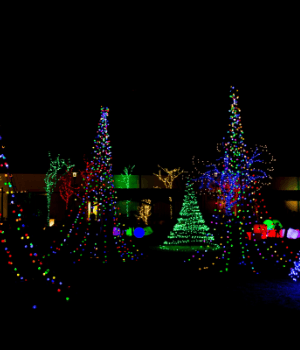 Holiday Festival of Lights
November 15-December 31
The 30th Annual Holiday Festival of Lights, hosted by the Charleston County Park & Recreation Commission at James Island County Park is a Charleston favorite. The three-mile display of light displays is complimented by attractions such as marshmallow roasting, train rides, an old-fashioned Carousel ride, holiday shops, and of course, Santa.
Lights at Magnolia: Reflections of a Cultural Exchange
November 15-March 15
This first-time event stems from a partnership between Magnolia Plantation and Gardens and the Zigong Lantern Group in China. The 23 custom-designed walk through light installations cover nine acres borrow from Chinese cultural symbols and the flora and fauna of Magnolia. Lanterns resembling animals and nature ensconced under ancient oaks make for a magical effect. The Lantern Festival is a centuries-old Chinese tradition dating back to the Han Dynasty 206 B.C. to 221 A.D.
Night of 1000 Candles
December 5-21
An annual Brookgreen Gardens tradition, visitors may walk through garden paths illuminated by candles and sparking lights. Holiday music, carolers and warm cider, cocoa and wine make it the perfect holiday outing. Named Best Christmas Lights in South Carolina by Travel+Leisure Magazine.
Carolina Lights
December 7-28
The South Carolina State Fair debuts this drive-through light show as part of its 150th anniversary. It features the Twelve Days of Christmas, dancing Christmas trees and a 25-ft Frosty the Snowman.