Meet Our Team: Elijah Tucker
Elijah Tucker is a Senior Product and Technology Consultant and who has helped Kia Country customers find the right car for more than a dozen year.  Elijah is Kia Elite Platinum Certified and among the Top 50 Kia salespeople in the country. He is a perpetual customer favorite and has sold multiple vehicles to the same customers over the years and their friends and extended customers. Read his reviews and you will see why. Elijah is also a veteran who served in both the Marines and the Army and enjoys spending time with his wife and four children.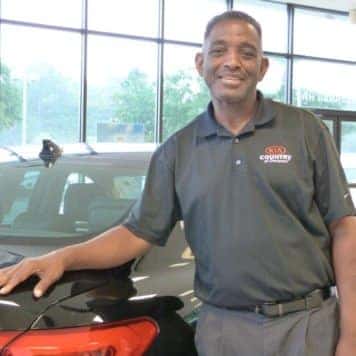 Favorite Kia Model and Why?
The Stinger because it's fast, smooth, innovative
What is the Secret Sauce to Your Sales Success?
Honesty and listening to the customer
What's Your Dream Car?
CLS 550 Mercedes
Favorite place in Charleston for a #KiaDrive
The Battery
Best Car Buying Tip
Buy what you want or you'll regret it and if you change your mind you'll lose a lot of money
Meet Our Team is a monthly blog series in which we ask our team members the same five questions.