Stop Distracted Driving
The National Safety Council (NSC) designates April as Distracted Driving Awareness Month. Distracted driving can include anything that diverts your attention from the road NSC considers distracted driving an epidemic.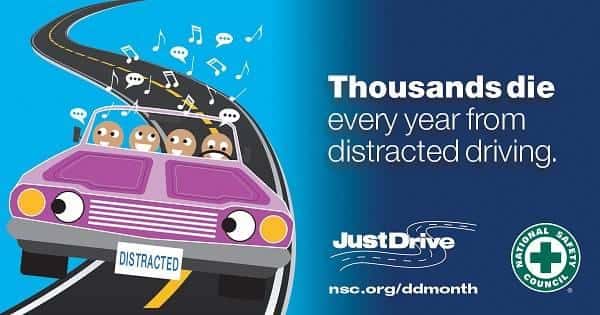 There are three kinds of distracted driving:
Visual: taking your eyes off the road for any reason
Manual: taking your hands off the wheel
Cognitive: letting your mind wander to something besides driving
"For the first time in nearly a decade, preliminary data from the National Safety Council estimates that as many as 40,000 people died in motor vehicle crashes in 2016. That marks a 6% increase over 2015 and a 14% increase over 2014 – the most dramatic two-year escalation in 53 years." ​According the Centers for Disease Control and Prevention (CDC), every day in the U.S. eight people are killed and 1,161 injured in crashes that are reported to involve a distracted driver. The National Highway Transportation Safety Administration (NHTSA) 10% of all fatalities and 17% of all accidents are caused by distracted driving.
Don't be a statistic. Here's what you can do to protect yourself and others.
Do NOT text and drive
Do not use your cell phone unless it is an emergency and if possible pull over
Do not eat and drive
Set your GPS before you start driving
Have tolls and/or your EZ Pass out before you drive
Do not drive if you are drowsy, upset or distracted
Focus on the road, not your passengers
It's so easy to become distracted. When you are driving, even a split second can be the difference between life and death.
Together, let's end distracted driving.