The Importance of the Multi-Point Inspection
Kia Service Technicians perform a multi-point inspection (MPI) on every vehicle we service on every visit. This includes checking all vehicle fluids and topping off as needed at no cost to you.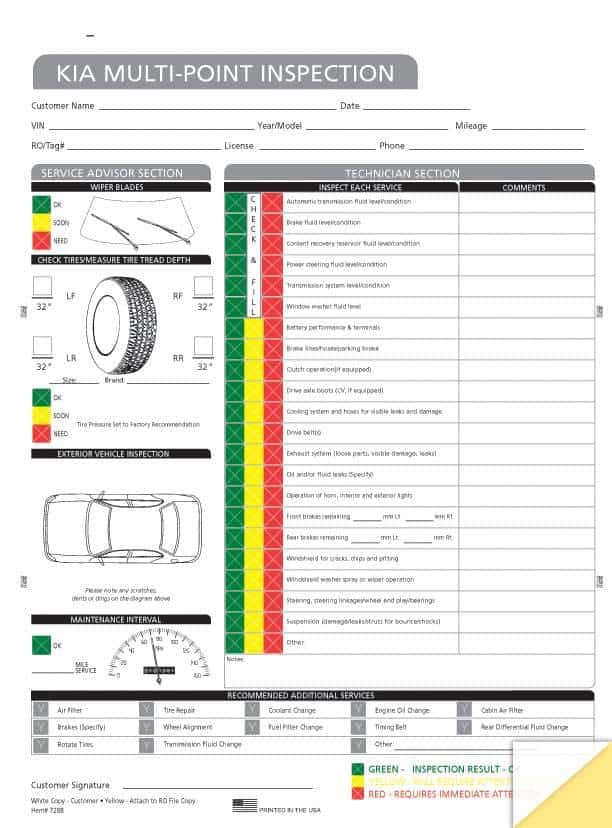 Think of your service visit as an annual physical exam with your physician and the MPI report your medical chart. Why? Because it may be the single most important predictor of your vehicle's health.
We use a "traffic-light", color-coded system that's easy to follow. Green means go, all is well, yellow means caution, this needs to be watched, and red means stop and take care of this issue.
Your Service Advisor will review the results of this report with you. Following these recommendations will improve safety and save you money over the long-term.
Many customers ignore or postpone repairs due to short-term costs and ultimately suffer consequences such as more expensive repairs or being stranded with a non-functioning car. We offer the Car Care Card, an interest-free option that allows you to make needed repairs done.
The most frequent problem we see is worn tires. As many as 75% of the customers we see are driving on one or more unsafe tires. Learn more about when it is time to replace tires and how to choose tires.
We encourage you to discuss any concerns with our Assistant Service Managers. They are Kia trained and certified to help you maintain your car.
Watch Assistant Service Manager, Chelsea Rowlands further explain:
Schedule Your Service Appointment Today