What is a Pre-Delivery Inspection (PDI)?
A pre-delivery inspection (PDI) is the final check a dealer performs on a car before it can be sold to a customer. It is a comprehensive inspection of the vehicle to make sure it is ready to be driven on the road.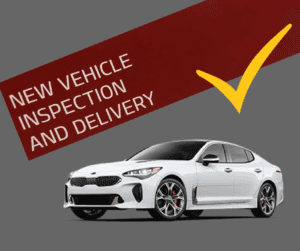 Vehicles are transported in shipping mode and covered in a protective film. During the PDI, the dealership removes the film and tests all the features and functions of the car including but not limited to:
Complete computer system diagnostic check
Test all interior and exterior lighting
Complete electrical system test (battery, starter, and alternator
Check and fill all fluid levels as needed
Properly inflate tires
Test Bluetooth connectivity and accessory outlets
Test all audio system operations and navigation if equipped
Evaluate windshield washer spray pattern
Check that all safety components are working
Test drive to make sure there are no vibrations or steering wheel pull
Once all of the mechanical and electronic tests have been performed, the vehicle is detailed inside and out before being put on our lot.
During the delivery of a vehicle, the customer the PDI checklist will be reviewed with the buyer and both the buyer and salesperson will sign the document. It is then given to the Service Department and entered into the customer's service record.
If you have any questions about our PDI process, please contact us.